As summer winds down, it's time to solidify your fall marketing plans. Brands often utilize warm colors when it comes to fall marketing and focus on time spent with family and friends in this pre-holiday season. Reminding account holders of the warmth that comes with autumn and showing them how your financial institution can support their lifestyle can allow you to build long lasting relationships with them through the fall and beyond. Fall is an ideal time to promote your various loan products as your account holders begin to make financial plans before the holiday season is in full swing. So, to help you get your planning and strategizing started, we are sharing three loan product campaign promotions to launch this fall as well as design templates to share on your social media channels to connect with your followers.
Product Promotions:
1. HELOC
As account holders get ready to tackle home improvement projects this fall and begin to plan for holiday spending and traveling, remind them that leveraging their home equity can be a smart way to borrow cash. Strategically develop fall specific communications to promote your Home Equity Line of Credit (HELOC) offers. Not only will a HELOC offer support the needs of your account holders, but also enable your financial institution to build deeper relationships and in turn meet your growth goals. Dive into the key components of a successful HELOC offer. We've created fall postcard and letter templates for you to brand and modify with your financial institutions' HELOC offer details.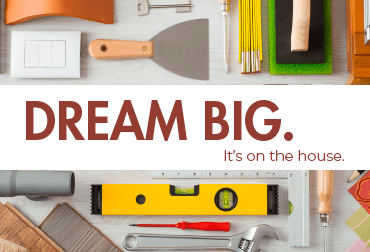 HELOC Postcard – Dream Big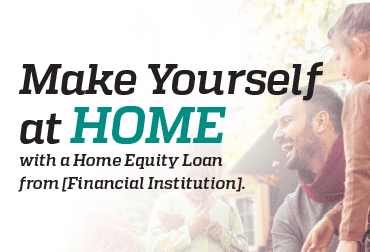 HELOC Postcard – Make Yourself at Home (Fall)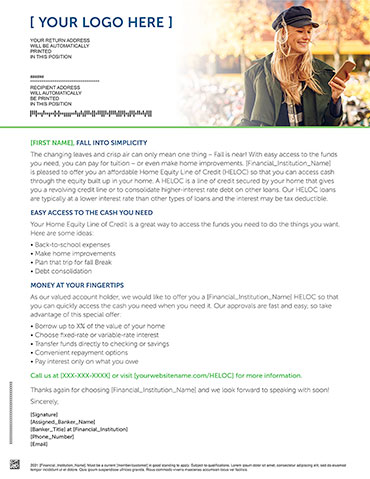 HELOC Letter – Changing Leaves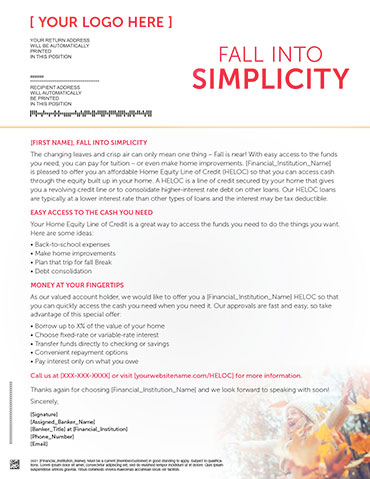 HELOC Letter – Fall into Simplicity
2. PERSONAL LOANS
Consumers will be looking to borrow money this fall for a wide variety of reasons from consolidating debts to planning for a wedding the following year to covering holiday expenses. By clearly communicating and promoting your personal loan offers to your account holders, your financial institution can support their financial needs and wants. Learn about the six steps of building your personal loan campaign. Download these fall specific personal loan postcard and letter templates to get started communicating with your account holders.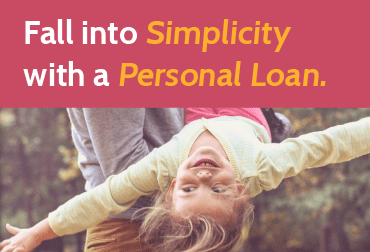 Personal Loan Postcard – Fall into Simplicity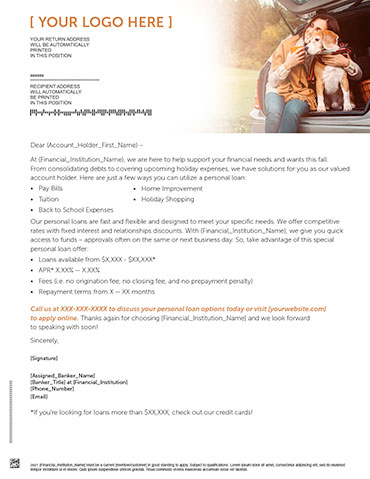 Personal Loan Letter – Fall
3. AUTO LOANS
Fall can be the perfect time of year to promote a fall auto loan campaign. One financial institution generated 491 new auto loans by executing a simple five-touchpoint fall campaign utilizing email and postcards. Click here to learn how you can do the same with Core iQ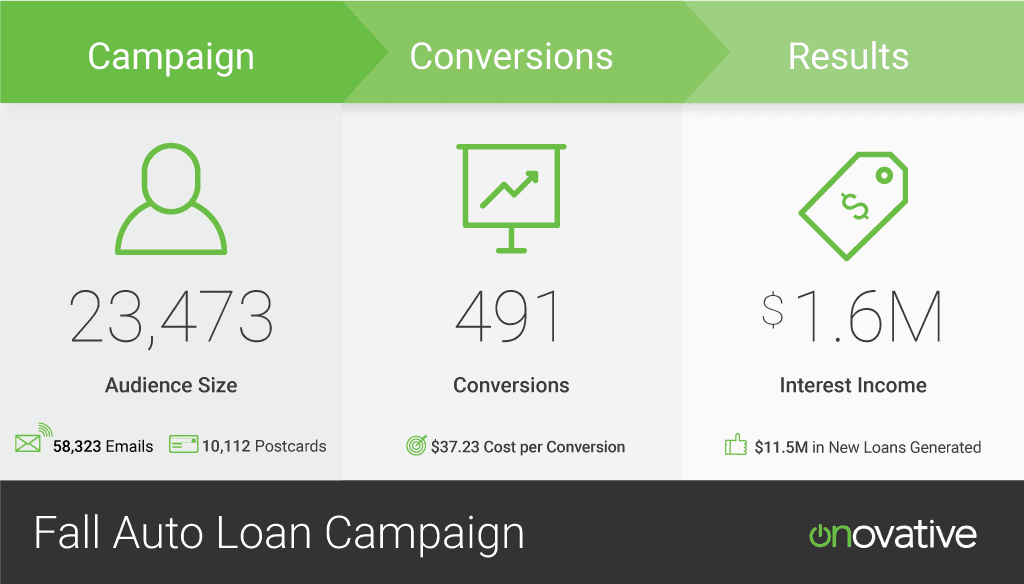 Fall Communications:
1. SEPTEMBER
College Savings Month
September is College Savings Month. Take the opportunity to share the advantages of saving early for higher education and tips for making a solid savings plan. Use these templates on your social media accounts to remind parents, grandparents, and relatives of ways to save for higher education.
Labor Day
Recognize and applaud our workers by posting a celebratory image on your social channels to wish your account holders a happy Labor Day. Be sure to also remind your followers of your holiday hours. Download and brand one of these images with your financial institution's logo.
2. OCTOBER
Customer Service Week
The first week in October in Customer Service Week. Grab one of these designs to use on your social media accounts to thank all those who work in customer service.
Columbus Day
Wish your followers a happy Columbus Day and let them know of any branch closings or special holiday hours. Download and modify one of these designs with your financial institution's branding.
Halloween
This October 31st, take the fun opportunity to connect with your account holders by wishing them a safe and happy Halloween on your social channels. Don't be too spooked – we've made it easy for you to connect with your account holders with this free, downloadable designs.
3. NOVEMBER
Veterans Day
Honor and thank all who those who have served and are currently serving our country this Veterans Day on your social channels. Be sure to also remind your followers of your holiday hours.
Thanksgiving
Let your account holders know that your financial institution is thankful to serve their community and remind them of your Thanksgiving holiday hours using these graphics on your social media accounts.
Black Friday
Black Friday is always the day after Thanksgiving. Take the opportunity to encourage your account holders to take advantage of Black Friday sales and to shop local using these designs.
As with all marketing – the most important piece of advice when it come to your fall marketing is to DO IT! Simply put, if you miss out on fall marketing, your financial institution misses out on growth. So don't wait and start creating your fall marketing plans now! Ready to see how Core iQ can make strategizing and planning for your marketing campaigns easier for every season? Click here to schedule a demo.