Simple CRM for Banks and Credit Unions
Packed with only the features you need to reach your sales goals. Easily access anyone at anytime and start providing targeted offers to increase revenue and engagement.
STOP ENTERING DATA MANUALLY
Start trusting that you have a complete view of every relationship. Nightly, automated refreshes from your core and all of your ancillary systems gives everybody confidence that your records are accurate and up-to-date.
Universal search gives you instant access to all your relationships, their products, and open opportunities. Drill into individual products to see even more detail, like high/low balances and additional account holders.
SEE EVERY COMMUNICATION EVER SENT
Dramatically improve one-on-one conversations by giving relationship managers access to the exact wording of every email, postcard, and letter delivered to all of your relationships.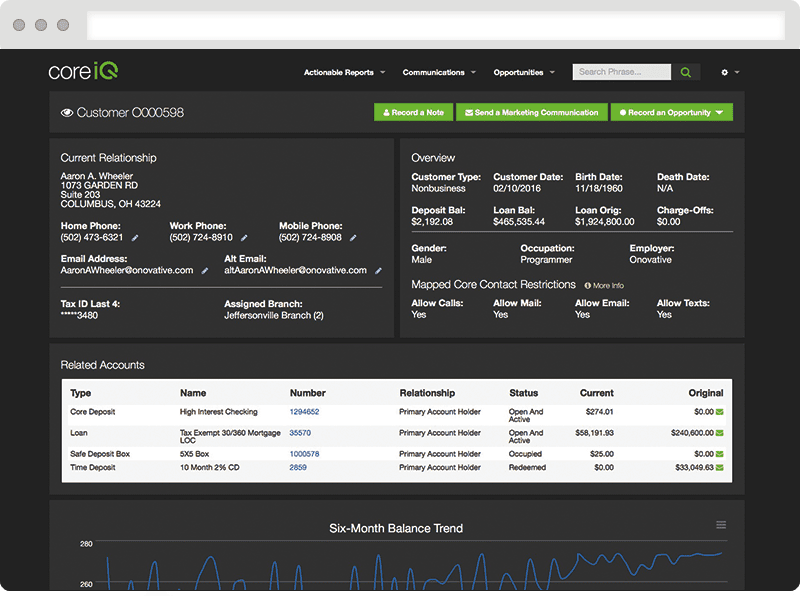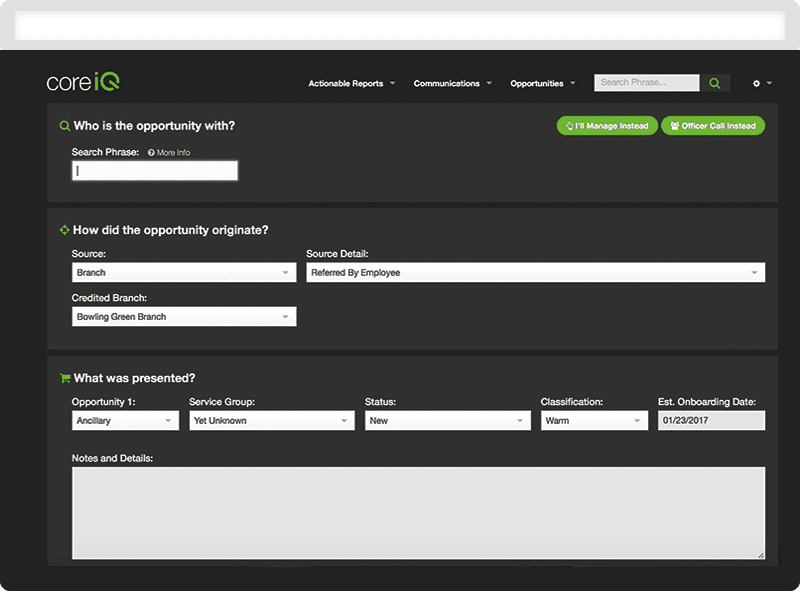 Current Account Holders and Prospects In One System
CUSTOMIZED OPTIONS TO FIT YOUR SALES PROCESS
Configure the system based on your own sales processes by defining stages, products and permissions.
COMMUNICATE WITH CURRENT AND PROSPECTIVE RELATIONSHIPS
Share communication templates and marketing strategies by having all your core relationships and prospective relationships in one system.
LIMITED ACCESS TO FRONT-LINE STAFF
Individuals that call or stop by a branch can be added into Core iQ, with built-in protections from entering duplicate records.
AUTOMATE YOUR INTERNAL REFERRAL PROCESS
Give employees the ability to add and refer new opportunities. Referred opportunities push an instant email to the primary officer, and everybody can oversee the pipeline from their custom dashboard.
SEND COMMUNICATIONS & TAKE NOTES
Pull up an individual's record to send out a compliance-approved communication, or take notes during an officer call. Everything is tracked against that relationship's record and accessible in realtime.
KNOW EVERYONE'S COMMUNICATION PREFERENCE
Every communication preference can be viewed in one place, and even updated with the right permissions. Exporting a list of preference changes to keep the core up-to-date is also a snap.
Find Out Why Financial Marketers
Core iQ