Marketing Automation Connected To Your Core
Automatically send out multi-channel communications on behalf of any employee based on trigger events or transactions. Learn more about why Credit Unions and Banks love Core iQ.
Make Communicating Easier
POWERED BY NIGHTLY UPDATES
Everyday people sign up for products, open accounts, and get approved for loans. Start communicating based on those activities with a system that can receive nightly updates from all your data feeds.
CUSTOMIZE YOUR AUDIENCE SEGMENTS
Define a product based audience to automate communications for things like product onboarding, relationship expansion, and customer retention. Add criteria like balance and age ranges, or even custom data like credit scores to build targeted segments.
Each audience has its own communication plan and cross-sell priority matrix. Add or remove communication touch points based on your comfort level and desired cadence with your relationships.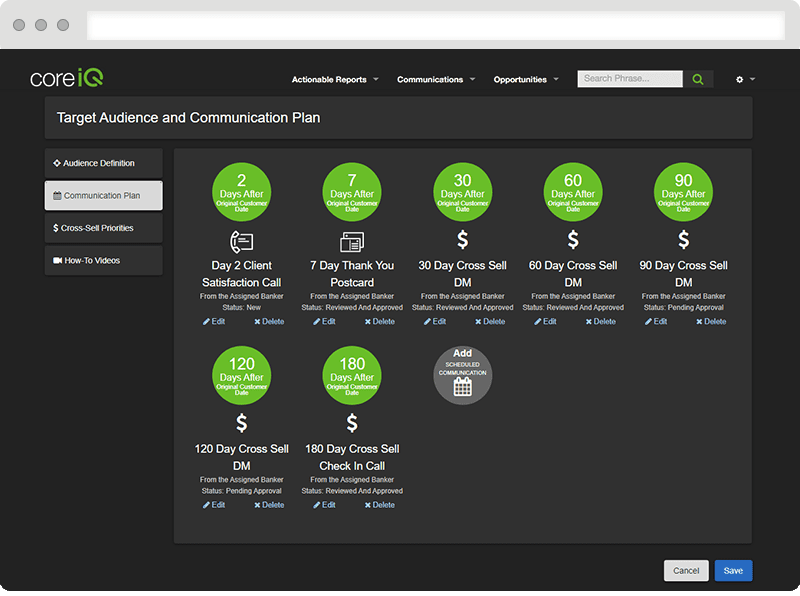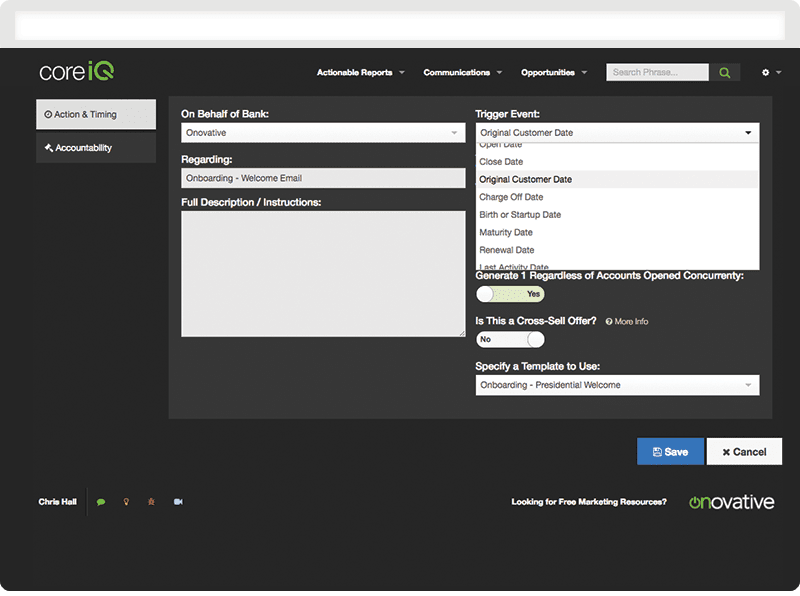 Send out communications leading up to or after a product or service's open date, close date, maturity date, charge-off date, or any number of other dates. Also trigger messages on calendar dates for closure notices or monthly campaigns.
RELATIONSHIP NURTURING TRIGGERS
Other trigger events include birth date and original customer date. Save time and increase loyalty up to 90% by automatically delivering personalized birthday and anniversary messages on behalf of your team.
TRANSACTION BASED TRIGGERS
Up your game with automated operational communications. Core iQ can send an email after an account renewal or reminders to activate a card after so many days. We'll work with you to achieve your goals.
SEND EMAIL, PRINT MAIL, OR SURVEYS
Schedule your communications as emails, postcards, letters, or surveys. Compliance approved templates live in your Template Library, and Core iQ takes care of delivering everything for you.
SCHEDULE OUTBOUND PHONE CALLS
Build dynamic, daily call lists for sales, promotional campaigns, or courtesy follow-ups. Connect custom call scripts to every outbound call to unify your outreach.
Core iQ can automatically detect whether a customer has an email on file. Set up your communications to send email first and follow-up with print if email isn't possible, saving you time and money on your next campaign.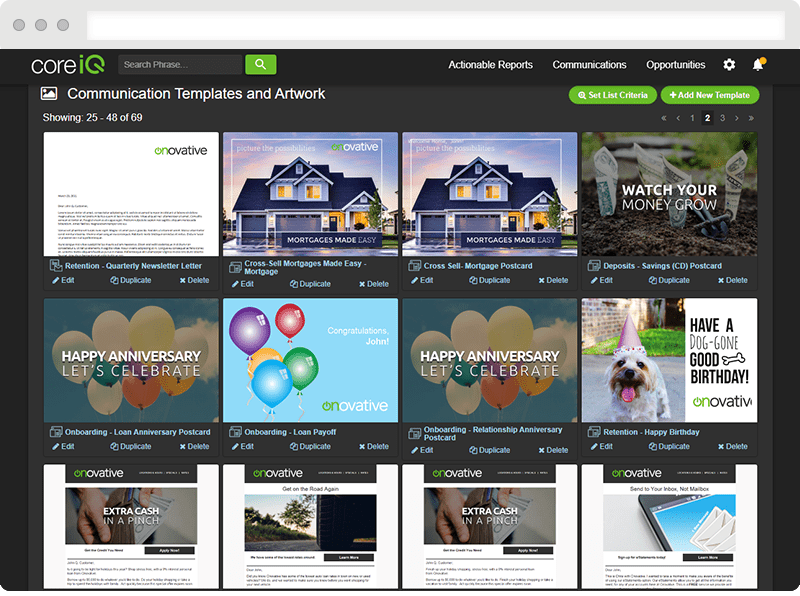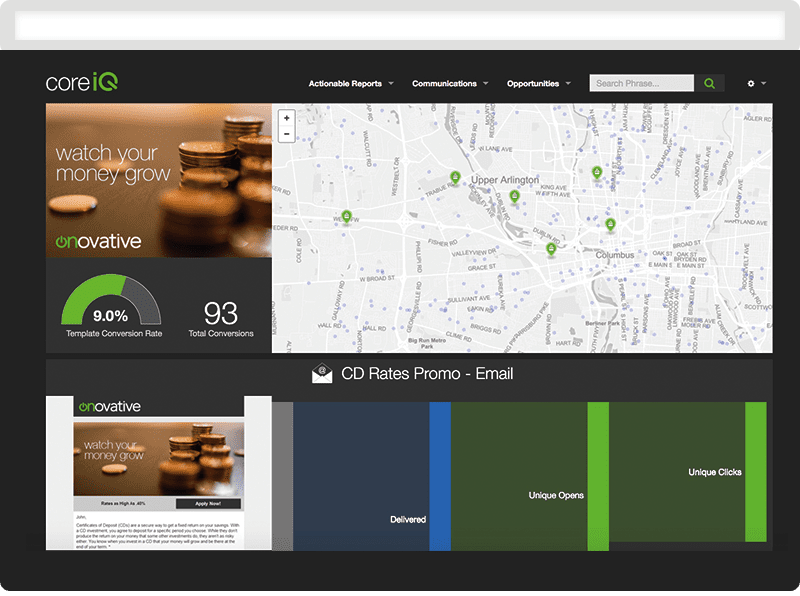 ATTRIBUTE SALES TO COMMUNICATIONS
Core iQ knows the communications it sends out, and every night it learns about the day's account activity. Putting these two pieces of information together allows you to easily track product offer conversions.
INCREASE PRODUCTS PER CUSTOMER
Using dynamic communications for the next best product to cross-sell, Core iQ can help you increase your product adoption via automation and campaigns. We will help you find campaigns that work and assist you in increasing your product portfolio.
PERSONALIZATION THAT MATTERS
Dynamically send marketing communications and product offers on behalf of employees, including branch managers and your leadership team. Personalize messsages to any customer using merge fields connected to your core and custom data.
Find Out Why Financial Marketers
Core iQ