Find People to Cross-Sell & Start Sending Offers
Anyone can build custom cross-sell lists with Core iQ's intuitive reporting engine. Sending offers to your custom lists is as easy as selecting an email or direct mail offer and clicking send.
Stop submitting complex data requests to IT and waiting days or even weeks for data. Start pulling your own data and reports from a dropdown menu based reporting engine that is updated every night.
REPORTS DEDICATED TO CROSS-SELLING
Find people that have one or more products or services, but not the product or service that you'd like to cross-sell. Add criteria like open date, age, and balance to come up with very specific lists for highly targeted offers. Learn more
AUTOMATE YOUR CROSS-SELLING
Add a dynamic cross-sell priority matrix into any Core iQ audience to automatically send the next best offer to all of your customers. Increase your ancillary product adoption by automating cross-sell offers that are informed by your customer data and what products they do and do not have.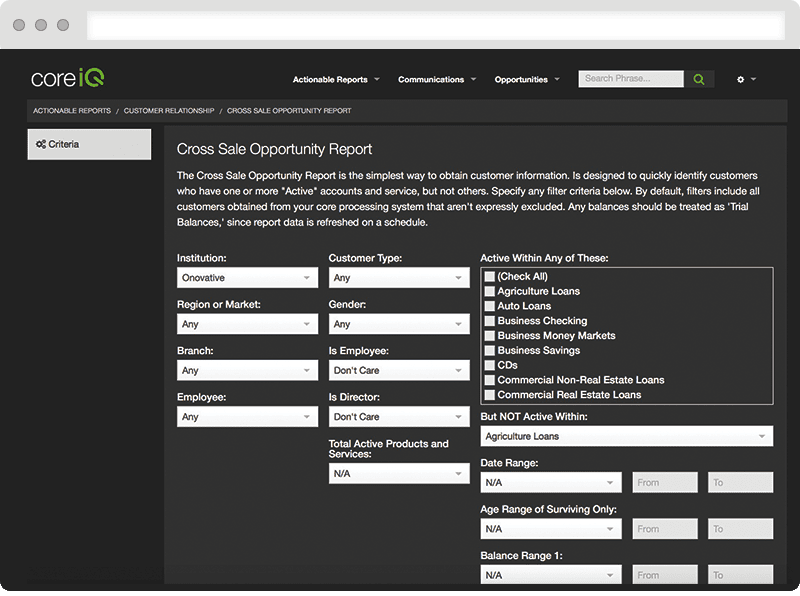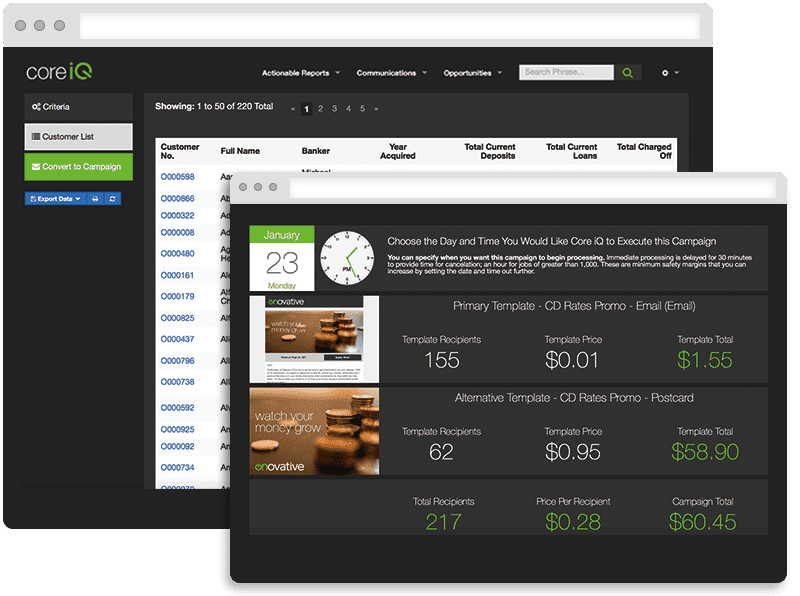 Build Lists and Campaigns
Every Cross Sell Opportunity Report can be turned into a list, giving you the ability to quickly identify people you'd like to receive offers. Change your list criteria on the fly or add your own custom data for endless possibilities.
PUSH ENTIRE CAMPAIGNS WITH ONE CLICK
Convert any Cross Sell Opportunity Report into a campaign to send offers out via email, postcard, or letter. Also create an outbound call campaign for a personal touch.
Make sure everyone receives your next campaign with a print backup for your email offers. People with email addresses on file receive emails while everyone else receives a print piece.
MEASURE TRUE CONVERSION RATES
Stay in the know when people convert after receiving your offers and get insight into the types of offers that are most effective. Then test out offer modifications to continually improve your marketing materials.
PULL CONVERSION REPORTS BY TEMPLATE
Drill into the account details of the people who are converting after receiving your cross-sell offers to uncover insights and ultimately push out better campaigns.
AUTOMATE YOUR BEST CROSS-SELL OFFERS
Once you've found a cross-sell offer that converts a certain type of audience, add that offer to your automated onboarding schedules and any other marketing schedules that make sense, to automate future conversions.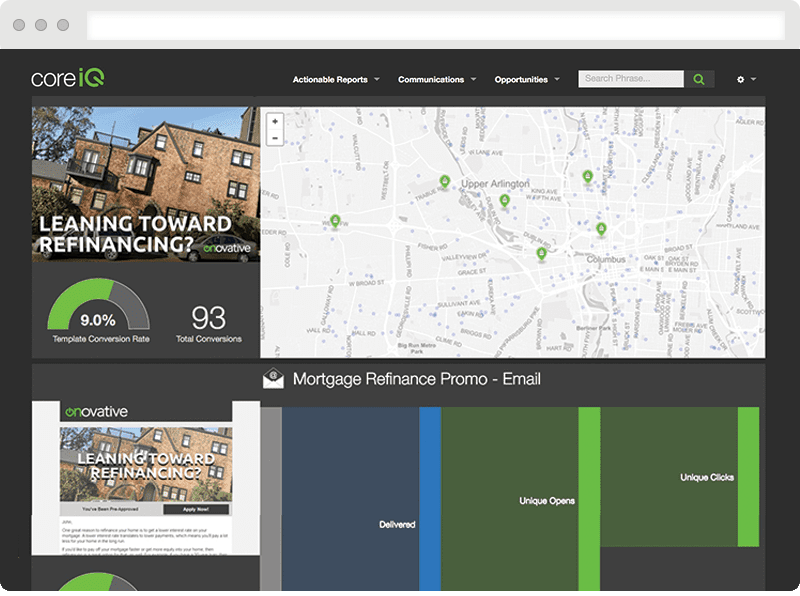 Find Out Why Financial Marketers
Core iQ