Revolutionized Reporting for Banks & Credit Unions
Looking to pull reports and execute campaigns across email and print mail in a single system that automatically refreshes every night? Then look no further: Core IQ features customizable dashboards with visual and actionable insights, liberating your data like never before.
Bring in data from core, ancillary, and 3rd party data feeds, automatically on a nightly basis. Everything stays within your environment and eliminates the wait time associated with sending large files to 3rd party MCIF vendors.
A simple dropdown menu based reporting engine and growing library of 30+ reports makes data accessible and exportable to all. Empower your team to answer their own questions about products, trends, and relationships.
CONTROL WHAT PEOPLE CAN SEE
Set data permissions to customize every employees' access based on their job function and need to know. We don't charge based on seat licenses, so literally everyone can have some access to data depending on their role.
HIGH LEVEL TRENDS RIGHT ON YOUR DASHBOARD
Stay in the loop on what's trending at a specific branch, region, or the entire financial institution. Everyone's dashboard can be customized to quickly keep track of the data that affects them the most.
INTERACTIVE DATA VISUALIZATIONS
Build reports to drill into and better understand side-by-side product trends within specific demographics over time. Then use a built-in, interactive visualization to examine your results in new ways, with a lot less work.
EXPORT YOUR DATA & VISUALIZATIONS
It's your data, so it's easy to download report results into a Microsoft Excel or .csv file. You can also download a visualization for your own internal reporting slides to discuss at your next meeting.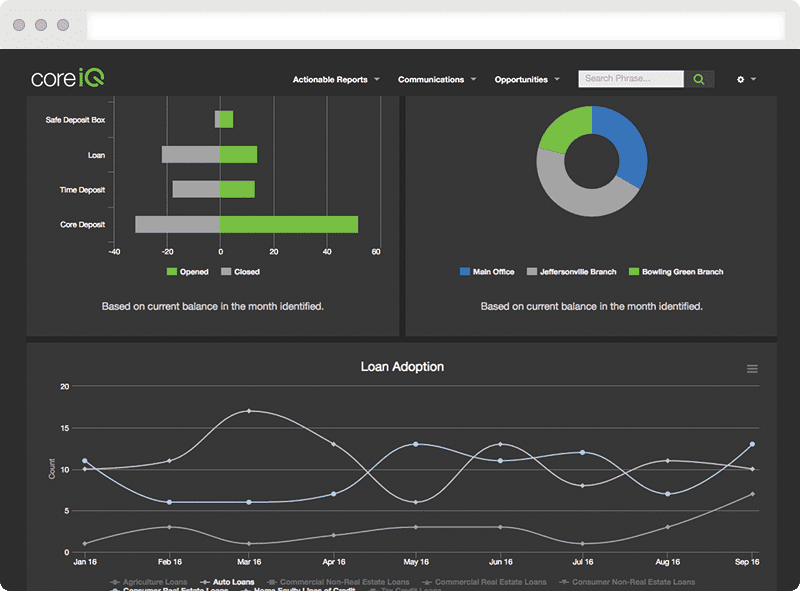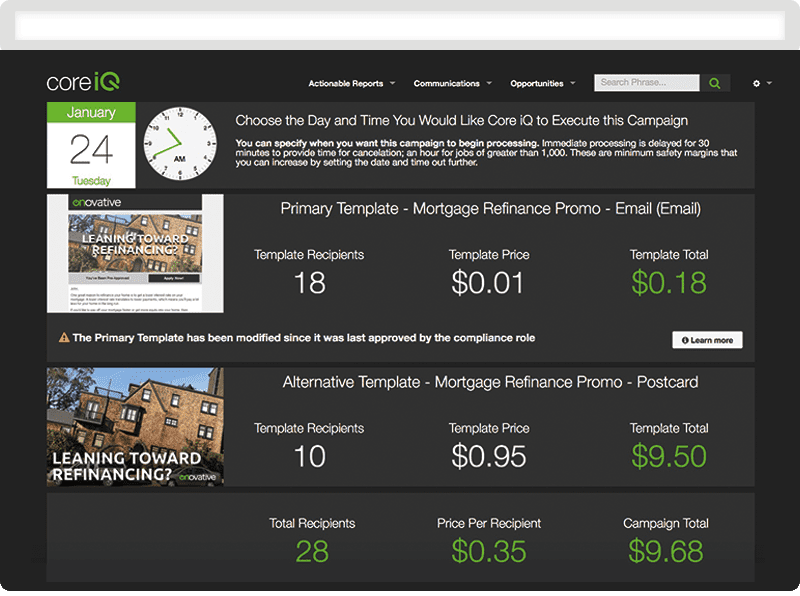 Convert Lists Into Campaigns
BUILD CAMPAIGNS IN MINUTES
Turn reports into campaigns with the click of a button. Refine your criteria to build targeted lists, then select the templated communication you'd like to send out and start pushing out campaigns in minutes instead of weeks.
SIMPLIFY MULTI-CHANNEL COMMUNICATIONS
Communicate with your relationships the way that they prefer, while simplifying your 3rd party vendor relationships by making Core iQ your email and print mail fulfillment partner.
TRACK CAMPAIGN CONVERSIONS OVER TIME
Automatically track the actions people take after receiving a campaign. Core iQ knows the offers people receive as well as the products and services they adopt. It puts everything together for you.
Find Out Why Financial Marketers
Core iQ