Automate Your Entire Onboarding Process
Define audiences based on the products driving new relationships, then set up a communication schedule to fully automate new account onboarding & cross-selling.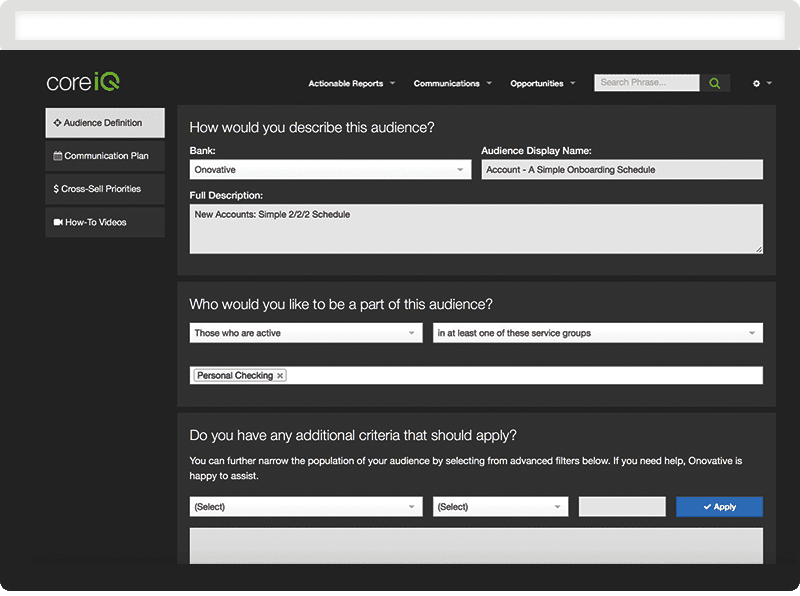 Build Audiences to Onboard
ONBOARD NEW RELATIONSHIPS
Properly welcome brand new relationships to your institution using automated welcome letters, follow-up calls, NPS surveys, and other communications.
TAILORED PRODUCT ONBOARDING
Nurture new account openings with product-specific onboarding messages including benefits emails, account opening surveys, courtesy phone calls, and next best offers for ancillary products.
FURTHER REFINE YOUR AUDIENCES
Want to communicate differently to Millennials, Gen Xers, and Baby Boomers in your onboarding communications? Get hyper targets using filters based on age, balance, and even 3rd party data.
Fully Automated Onboarding
CUSTOMIZE COMMUNICATION TOUCH POINTS
Create a communication cadence that works best for you. Build a communication drip that improves product adoption and customer retention without over communicating.
Choose from a number of trigger events to send out onboarding messages. Dynamically send items based on events like the open, close, maturity, renewal, or activity date of any product using your core data.
Completely customize your onboarding schedule by choosing a communication channel for every onboarding touch point. Automatically send out emails, postcards, letters, and surveys or schedule outbound phone calls.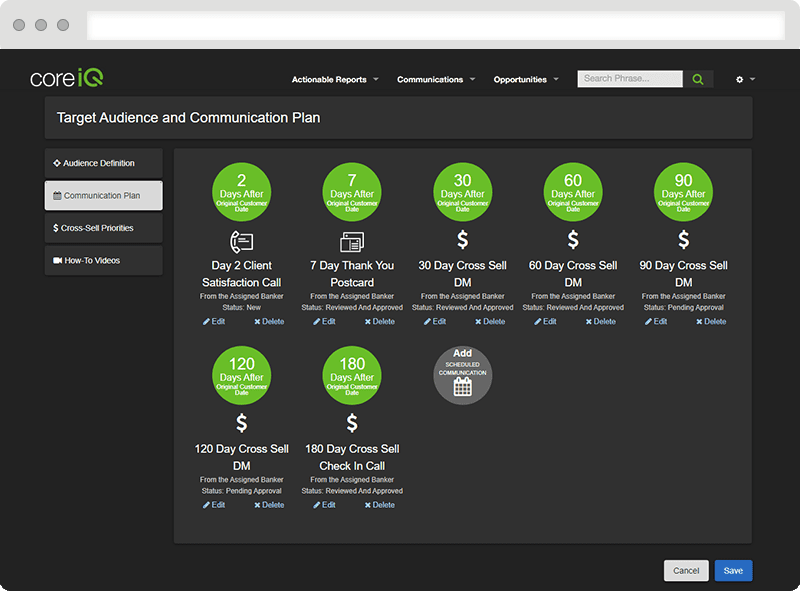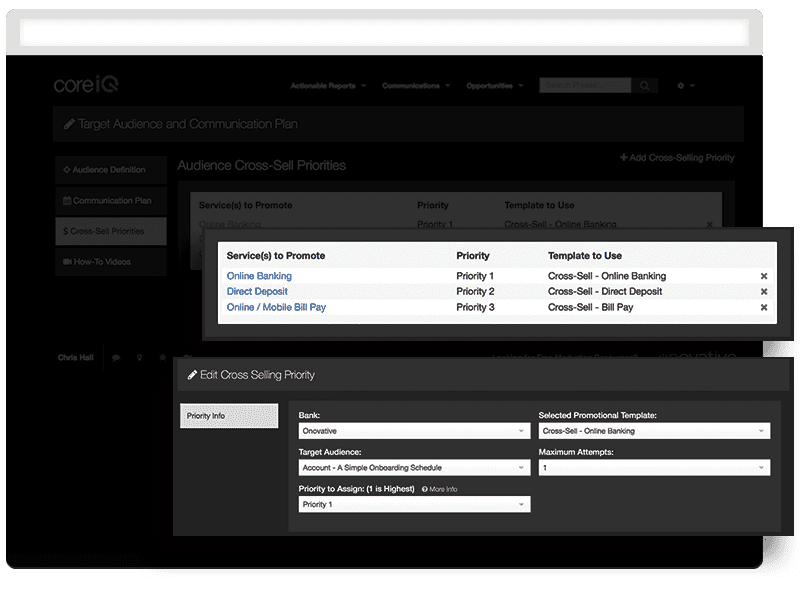 ADD CROSS-SELLING TO ONBOARDING SCHEDULES
Build a cross-sell priority matrix filled with the next best product offers for your customers. Connect these cross-sells to your automated onboarding schedules and easily increase products per customer.
START CROSS-SELLING AUTOMATICALLY
As people age into your cross-sell offers, Core iQ will work to find the highest priority cross-sell offer for a product or service that the individual does not already have, no manual effort needed.
DON'T SEND DUPLICATE OFFERS
Keep your cross-sell offers fresh and relevant using our cross-sell priority matrix. Send the next best offer to any customer based on their current product mix and your insitutition's priorities.
SEE YOUR CROSS-SELL EFFECTIVENESS
Discover which automatic cross-sell offers are converting and which offers aren't. Uncover your best offers because Core iQ connects the people receiving your cross-sell offers with the accounts they open.
FIND OUT WHO IS CONVERTING
Understand the people converting on your cross-sell offers with template conversion reports and dashboards. Core iQ helps you better understand and analyze conversions to start making even better cross-sell offers.
Use reports and dashboards to see your monthly communication spend for any product offer, as well as insights into conversion rate and cost per conversion. Gather additional data via reports on total deposit and loan balances brought in using Core iQ product offers.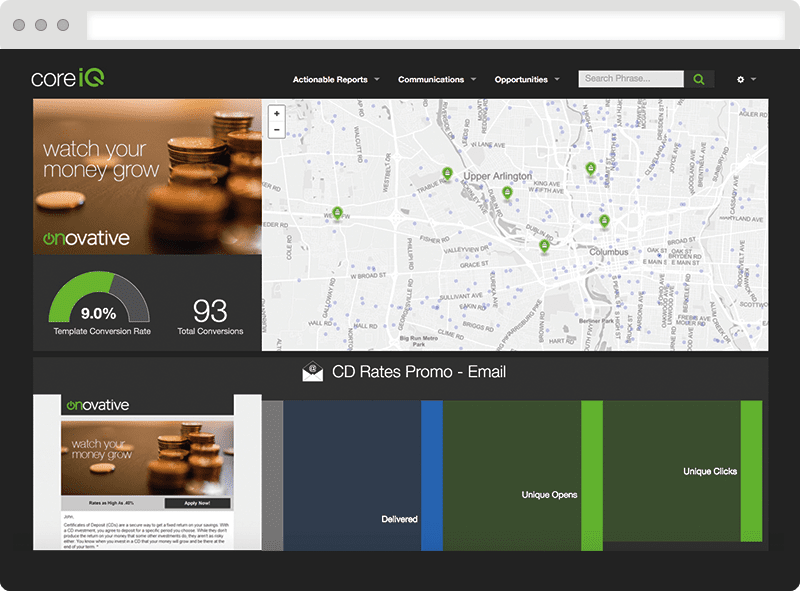 Find Out Why Financial Marketers
Core iQ