An Email Marketing System, Connected to Your Core
Can your email marketing system automatically send email the day after a transaction or trigger event? Ours can, which is one reason why banks and credit unions love Core iQ.
All Your Templates Together
USE OUR RESPONSIVE LAYOUTS OR IMPORT YOURS
Choose from our fully responsive email template layouts, or import custom emails from your agency or design department. Then, customize your email copy and images within the template editor.
Every email built in Core iQ automatically brings in your brand colors and logo, creating a consistent, on brand look and feel. Simply choose a layout and Core iQ will bring in your branding and social links.
BUILT-IN COMPLIANCE PROCESS
Send proofs to your compliance team with just one click, notifying them to review and activate your work in Core iQ. Everyone can rest easy knowing that emails cannot go out without compliance approval.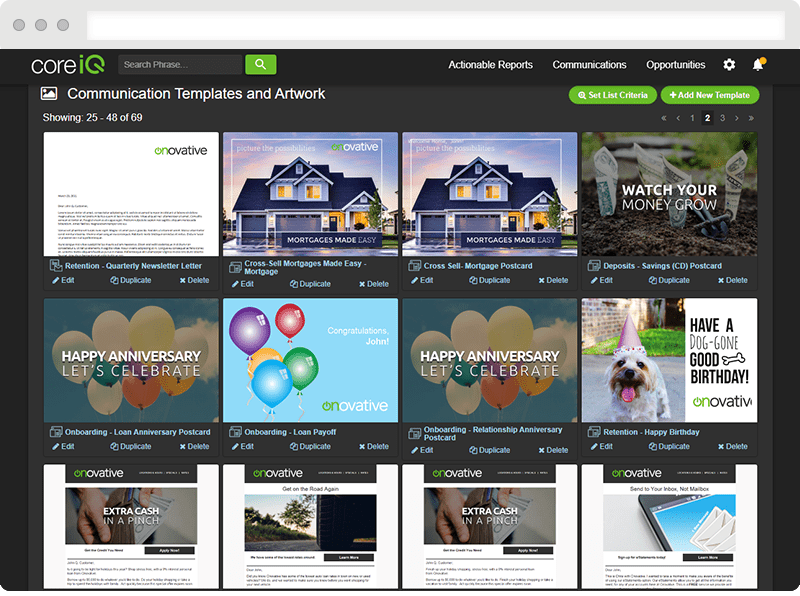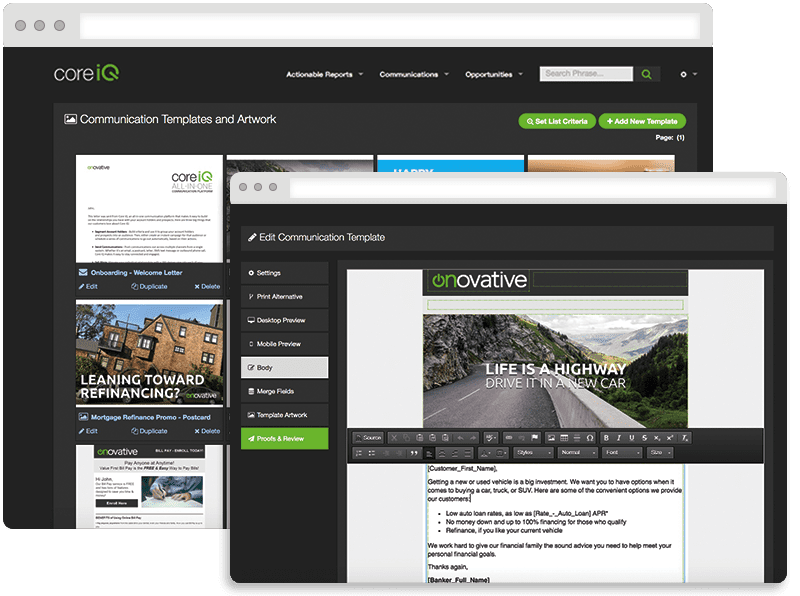 Dynamically choose who your emails are sent on behalf of. Whether it is an Assigned Banker, Branch Manager, or a specific employee. Emails can be sent from employee email addresses or from your default contact address.
AUTOMATIC PERSONALIZATION
Further personalize email templates with merge fields that bring in account holder information such as names, account dates, custom third-party fields, and balance information. Further personalize your emails using dynamic banker details such as branch names, banker titles, headshots, and signatures.
Modify your templates online as you would any other document. Type or paste your copy directly into your email template layout and modify text, add lists, create links and merge fields, and add images to your emails on the fly.
FROM ONBOARDING TO OPERATIONAL EMAILS
Build schedules and start sending automatic onboarding emails to new relationships after account opening. Automatically send holiday closure notices, privacy policy updates, even transaction based follow-ups.
NURTURE EVERY RELATIONSHIP
Create automated schedules to send birthday and anniversary emails, advertise commercial events, or just stay top of mind during the home buying process.
Connect a postcard or letter template version of your email to any email template. Core iQ can automatically detect when you have someone's email address or not and will send the appropriate communication.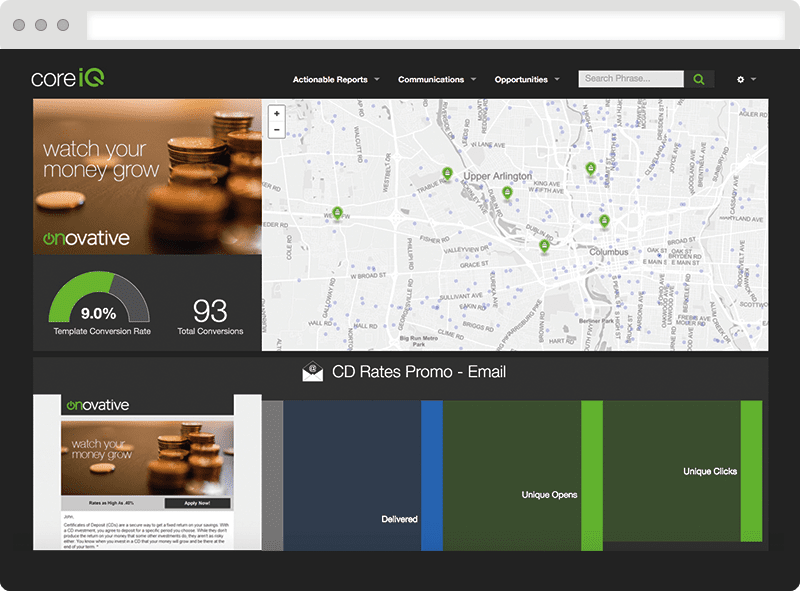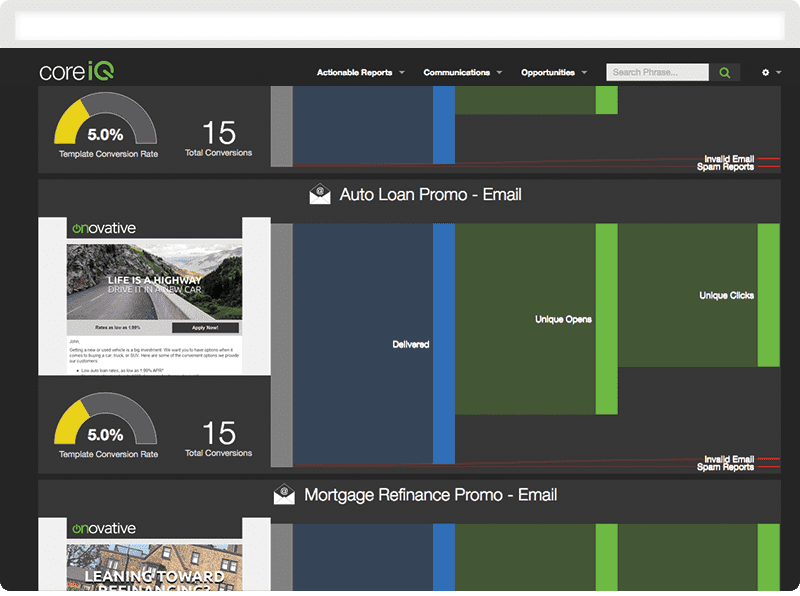 See email opens, clicks, and bounces visualized at the template level to gain a better understanding of how your communications are being received. View email clicks broken down by URL and gain further insights by seeing a device breakdown for each open.
Easily create campaigns based on what offers are working, what links are being clicked, and whether someone opened your last email. Segment your audience and send hyper targeted offers based on real-time metrics from your last email campaign.
TRACK TRUE ROI & CONVERSIONS
Understand the people converting on your offers with email template conversion reports. Core iQ assists you in calculating true conversion rates and Cost per Conversion. We track each conversion according to your core data and can match it to any offer template a customer receives.
Find Out Why Financial Marketers
Core iQ