Sending holiday branch closure notices is an important way to build loyal relationships at your financial institution. Not only does it give you an excuse to communicate with your customers or members it can also be an opportunity to drive product conversions.
It's a highly recommended component of general relationship building efforts.
At a base level, sending holiday closure notices gives you an opportunity to wish customers or members a happy holiday and show them you care. Plus, it's cost-efficient and easy.
If you already send regular holiday branch closure emails to your relationships, check out how this $425MM credit union generated 543 mobile app downloads when they promoted their mobile banking app in their holiday email communications using Core iQ.
The Audience
Being a holiday branch closure communication, the credit union sent the email out to all of their members for which they had an email address. In this case, it did not matter whether or not they currently had mobile banking, since the email was acting as notice of hours and a reminder of certain account features.
The one-time email was sent to an audience size of 12,589, and at a penny per email, the campaign cost the credit union a total of $125.89.
The Promotion
The promotion was subtle. The purpose of the email was to let members know the branch would be closed on a particular holiday and to remind them that several account features, such as ACH and pay a friend, would not post.
Then they did this…
By adding one simple sentence, saying, "Don't forget, you can still access your accounts electronically with the mobile app", they were able to drive 543 new mobile app downloads.
The Results
With Core iQ, they were able to track all conversions and found that this holiday branch closure notice email campaign generated 543 new mobile app downloads at a 4.3% conversion rate!
This same credit union went on to send the exact same email out to the same audience for the next major holiday and was able to score 368 more mobile app downloads at a 2.95% conversion rate and $.033 per conversion.
The results of this campaign prove that there is inherent value in sending holiday branch closure notice emails, especially when tied to something like a mobile app promo. For $0.23 per conversion, they were able to give an alternative solution to their members while increasing mobile app downloads.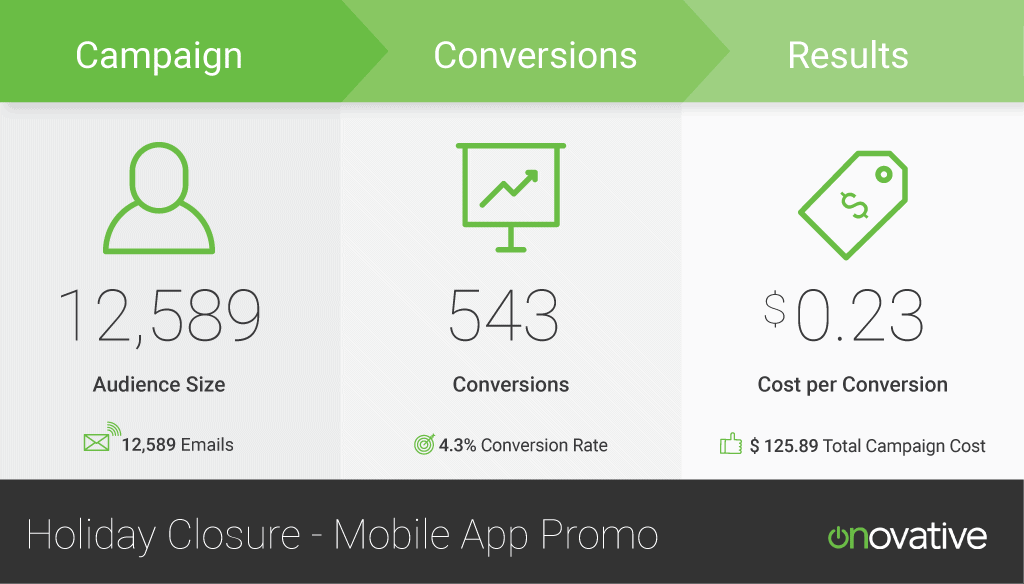 Are you interested in generating the same results for your bank or credit union? Contact Onovative for more insights or sign up for a Demo to see how Core iQ can help send communications and drive results.