With the hot housing market and home values continuing to increase, your account holders may be more ready than ever to tap into the equity they have built up in their home. Reminding your account holders to leverage their home equity can be a smart way to borrow cash for home improvements, refinance debts with higher interest rates to lower monthly payments or fund other large expenses. By strategically developing communications to promote your Home Equity Line of Credit (HELOC) offers, your financial institution can further support the needs of your account holders while also building deeper relationships with them. To help you get started, let's dive into the key components to a successful Home Equity Line of Credit (HELOC) promotion.
Target Audience
Identifying the account holders that might benefit from this type of product are key to the success of your campaign. There are two types of audiences for this product—account holders that need a Home Equity Line of Credit (HELOC) or account holders that already have a HELOC but aren't fully utilizing the funds available to them. Narrowing in on your audience and goals will aid in shaping the remaining message and offer. For the purposes of this article, we will focus on targeting account holders for a new home equity line of credit (HELOC).
Here are a few considerations for selecting your cross-sell audience:
Account holders with a previous HELOC, but no longer active yet in good standing
Homeowners
Length of residency of at least a year or more
Home Value > $5,000
Credit Score at mid-600s or greater (or based on your bank or credit union approval requirements)
Behavioral data such as intent data can be gained through a partner to identify consumers actively searching online for a HELOC
Message & Offer
When building your HELOC offer, you need to grab your account holders' attention while also communicating the offer details in a simple manner. Be sure to factor in the points below to ensure you communicate an effective offer.
HEADLINE: Start with an intro that will capture account holders' interest such as "Before you dig into savings or rack up high interest credit card debt, consider a HELOC".
IMAGERY: Utilize images that align with your target audience. Visually show loan amount tiers and repayment terms so that it is clear to your account holders how the offer works. The top keywords searched that are associated with home equity lines of credit (HELOC) include rates and calculators. If space is limited in your communication, develop a landing page on your website that can provide consumers more detail and tools they are seeking.
OFFER DETAILS: Highlight the following details of your offer to entice your account holders:
Ability to apply online (if applicable)
Fast approvals and access to funds
Easy repayment options
Borrow up to X% of the value of your home
Ability to transfer funds directly to checking or savings
INCENTIVES: Include monetary incentives in your offer to bolster results. In our experience, top performing HELOC offers feature incentives towards closing costs, low or no closing cost or appraisal fees and vacation vouchers.
Communication Channel
Utilizing email and direct mail to promote your products and services creates an effective multi-channel approach to engage your current account holders as well as prospective accounts. Direct mail postcards are an ideal way to catch your account holder's attention with a high-level summary of your HELOC offer details. Additionally, a direct mail letter is another effective channel to define what a home equity loan is, explain the benefits, and share specific details about your HELOC offer. Emailing similar educational information and details to your account holders allows for an affordable, multi-channel approach to produce better response and ROI on your communications.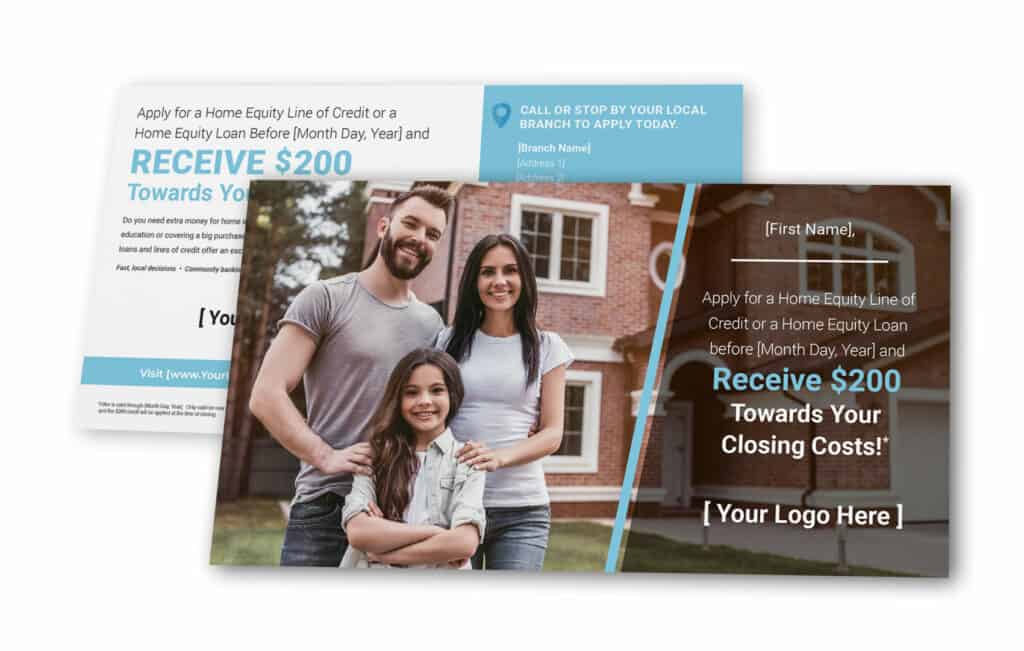 Click here to download the postcard template.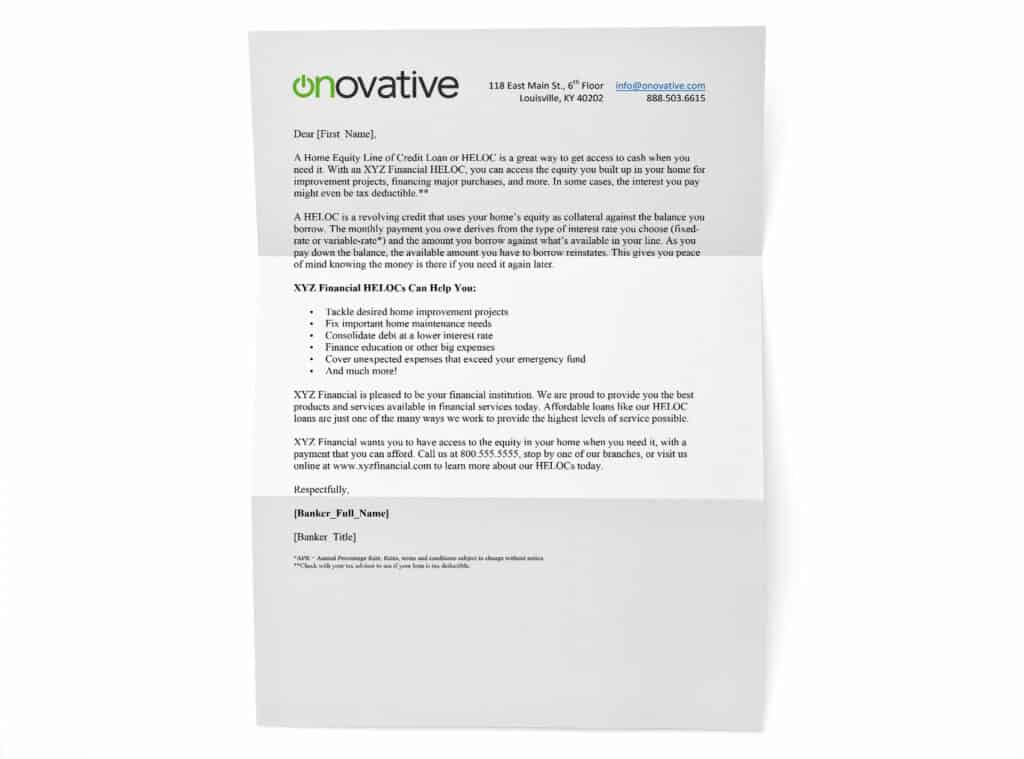 Click here to download the letter template.
By clearly communicating your HELOC offers using multiple communication channels to deliver your messages, you increase your likelihood of your message being read and resonating with your account holders. Remember, repetition is key when communicating with your account holders.
Timing
As with any campaign, the timing of your promotion drives the overall success. This is no different for home equity line of credit communications. Here are some recommendations for timing of your HELOC promotions.
March and April – Consumers begin to think about spring home improvement projects and gear up for summer vacation plans
July and August – Consumers prepare for additional expenses as school and activities ramp back up
October and November – Consumers tackle fall home improvement projects and begin to plan for holiday spending and travel
Ready to see how Core iQ can make delivering your messages and offers to your account holders fast and easy?
Click here to schedule a demo to learn more.