A $196.3 million dollar community bank was able to generate $5.77 million dollars in new deposits by creating a single-instance targeted campaign using Core iQ, the first all-in-one marketing platform for banks and credit unions.
In an effort to grow deposits, the community bank decided to send a CD promotional offer to 1,948 of its customers in good standing, and without a current CD.
By using Core iQ, this community bank was able to:
Maximize its reach
Control its costs
Queue the campaign instantly
The bank was able to quickly build its target audience by pulling a list of its existing customers based on relevant criteria. They found 1,948 of its current customers that had one or more active core deposit accounts, without a current CD, and a minimum average balance of $2,000.
They sent 1,948 direct mail postcards to its target audience, spending a total of $3,400. However, they were able to generate 72 new CDs and $5,768,706.91 in new deposits.
The ease of Core iQ allowed them to quickly access its data, pull a report of its target audience, and queue the campaign up in minutes.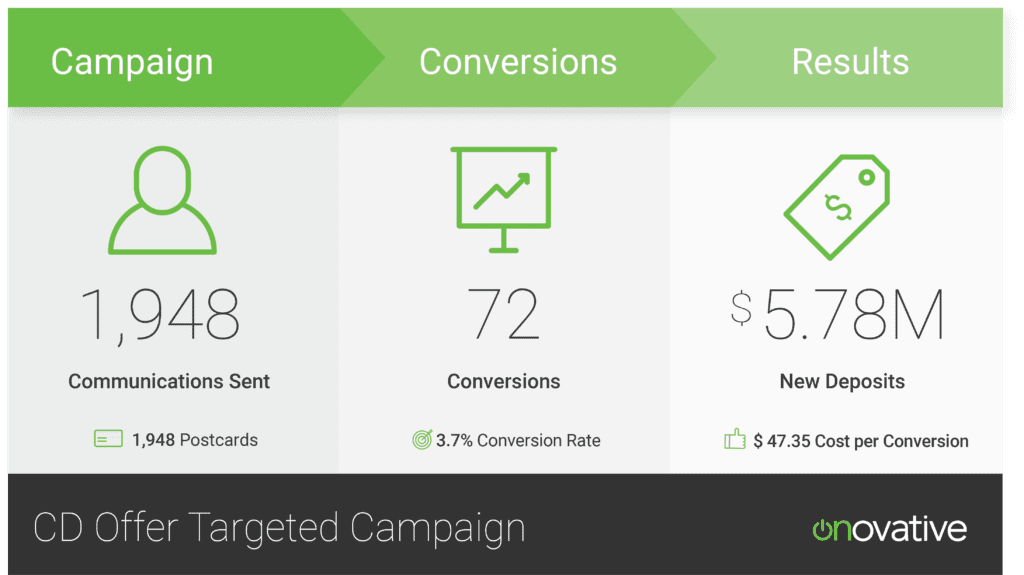 The Offer
The promotion was simple – with a minimum $500 deposit, customers could open an 18-month CD at a 2.65% APY.
The Results
With Core iQ, the community bank was able to track the campaign from start to finish and achieved a 3.7% conversion rate with its CD postcard offer. Of the 72 new CDs that were opened, 55 of them were for the promotional 18-month CD at 2.65% APY. Of the remaining CDs that were opened at varying rates:
8 of them were a 12-month CD
1 of them was a 24-month CD
4 of them were a 182-day CD
4 of them were an open-term CD
The community bank utilized Core iQ to reach its deposit growth goals with a 3.7% conversion rate and $5.77 million in newly opened CDs. It's promotion not only prompted a significant amount of the special offer CDs, but also its other CD products as well.
To learn more about how Core iQ can help you achieve similar results, contact us today at info@onovative.com.