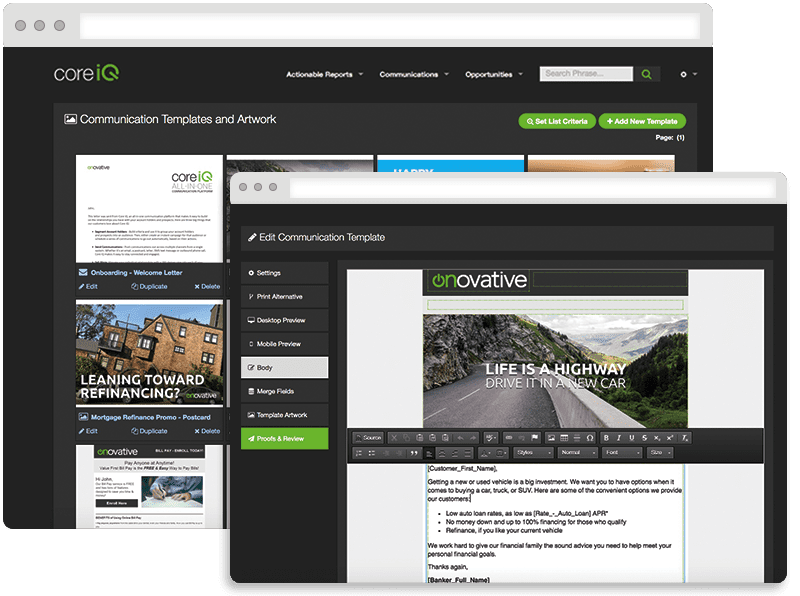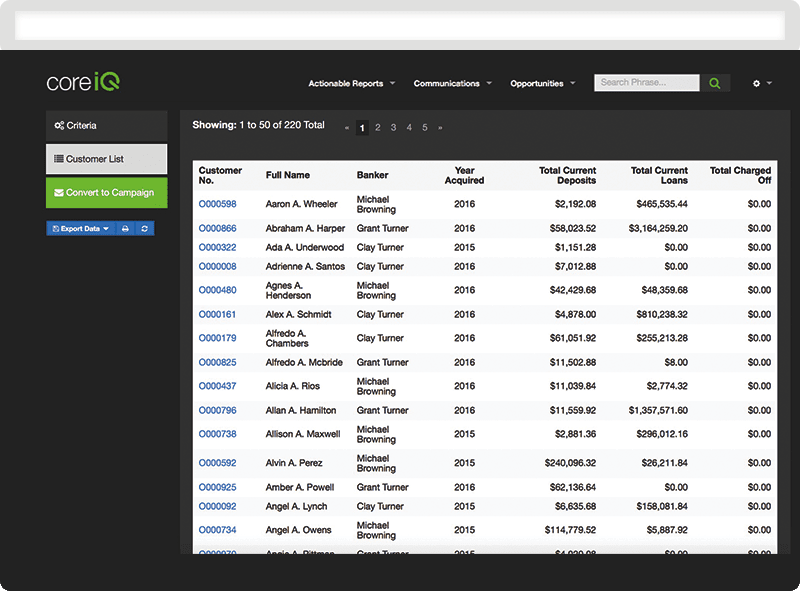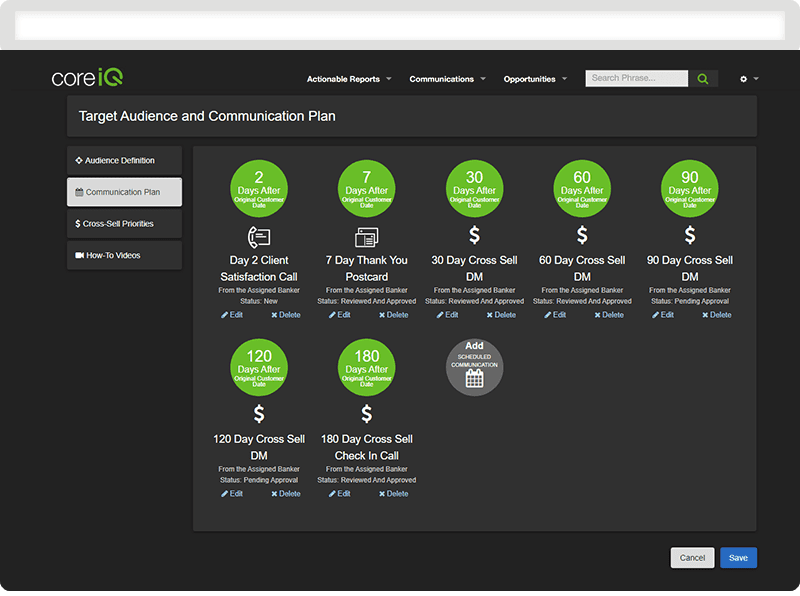 Core iQ can give you a helping hand on all these important marketing decisions, but for the purpose of this article we'll focus on the design aspect.
Let's take a quick journey together through Core iQ's automagical template library to see how much easier this process could be.
First, a Brief Introduction:
The Template Library is a pretty special part of Core iQ. It gives you a place where all your designs, branding, compliance approved and work-in-progress collateral can live (now you can avoid those black hole folder structures when trying to find your designs).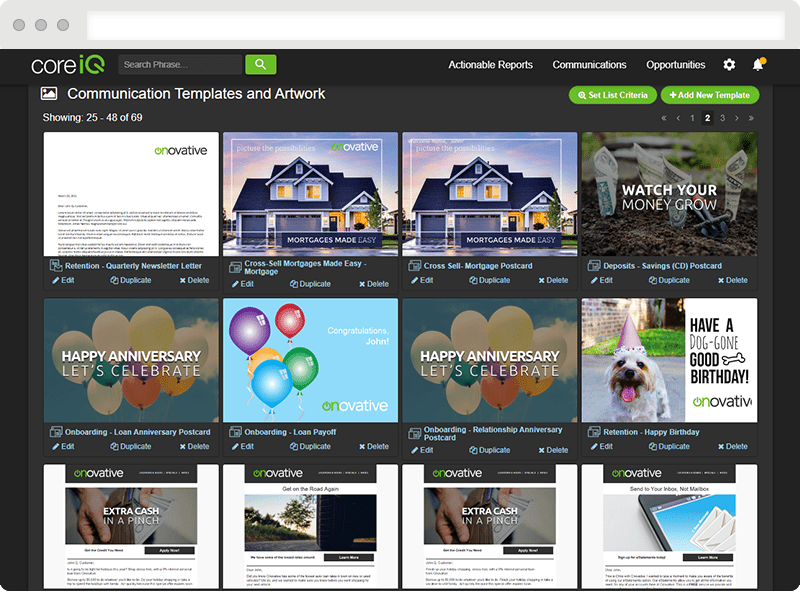 When you first open the Communication Templates section of Core iQ, only those designs that have already been approved by compliance (aka marked as active) will show by default. This gives you quick access to the templates you need that are already ready to go, like when you want to send a quick one-off campaign from a segmented list created in our Reporting section.
By simply changing the Set List Criteria settings you can view your inactive templates as well – these are templates that are still a WIP or haven't been approved by your designated compliance officer, yet. You can even search a template by name.
Automagically Designing in Core iQ:
I'm sure you're all familiar with mail clients, like MailChimp, that offer pre-designed layouts to help your creative process. The same capability is provided in Core iQ, with the added benefit of being designed solely with Banks and Credit Unions in mind.
When you select the Add New Template option, you can choose to create a design from an existing Installed Design or Design Your Own. I'll quickly walk you through the capabilities of both. (They're so neat I couldn't stand to leave you in the dark on either!)
Installed Designs
We are constantly working to make your life as a financial marketer easier. Part of this initiative is designing templates that you can use and edit free of charge to speed up your marketing process. We upload these templates into Core iQ's library for you so you're always just a couple clicks away from a completed design.
Now here's the automagical part…all your branding already lives in Core iQ, so the system will place and scale your logo into these designs for you…automagically.
Core iQ also provides you with added features like the ability to quickly add in merge fields or create print/electronic alternatives for your campaigns. All of this can be accomplished and previewed in this one area of Core iQ.
Design Your Own
Core iQ even simplifies the process of making your own designs. You'll first be prompted to choose the type of communication template you'll be designing. We have pre-made layouts you can easily modify in our editor.
Other HTML/CSS email styles or postcard designs can be easily imported into Core iQ, and any pre-existing look & feel of your institution's branding will be converted into Core iQ during our implementation process.
And remember, Core iQ helps you avoid any hiccups by showing print guides to avoid any cropping errors upon printing. All emails are also mobile friendly and all designs can be sent directly to your friends at Onovative to be proofed before going out. Basically, we got your back.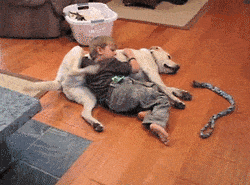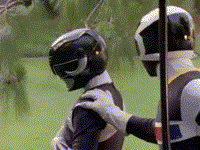 Being a marketer means you have to wear a lot of different hats. If one of those hats is a designer, why not streamline the process to be more efficient?
Or, if you'd rather do the branding, printing, mailing, and proof checking yourself, you are still welcome to download any or all of our templates on our website, because we love you.