A $517M financial institution sought to boost their personal loans with a special offer to their account holders around the holidays. This financial institution leverage Core iQ to send a personal loan holiday email as part of their campaign ultimately generating over $2.75 million in new loans.
The financial institution promoted payments as low as $95/month when borrowing for $5,000 for 5 years. Their offer included rates as low as 4.99% APR for a maximum of 60 months for those that took advantage of the offer before December 31st. They ran this special holiday offer from November 12th – December 31st.
Leveraging Core iQ, this financial institution leveraged their data to create a custom audience of over 18,000 of their account holders to promote this holiday offer, including:
No delinquent loans
No repeat NSF
No fees owed to the financial institution or charge offs
No bankruptcy
No credit/debit card or indirect denials
No checking account closed
To kick off their campaign, this financial institution used Core iQ to send their account holders a holiday themed personal loan promotional email.
In total, this financial institution was able to generate 377 new personal loans as part of their entire 6-week holiday promotional campaign resulting in $2,753,747 in loan origination.
The email sent from Core iQ to begin their campaign accounted for more than 58% of the overall loans. The financial institution sent out this email to 18,129 of their account holders and 17,273 of those emails were delivered. This email opened by 44% of the audience with 7,650 opens and saw a conversion rate of 1.2%.The email campaign alone converted 222 new personal loans generating $1,469,351 in loan origination.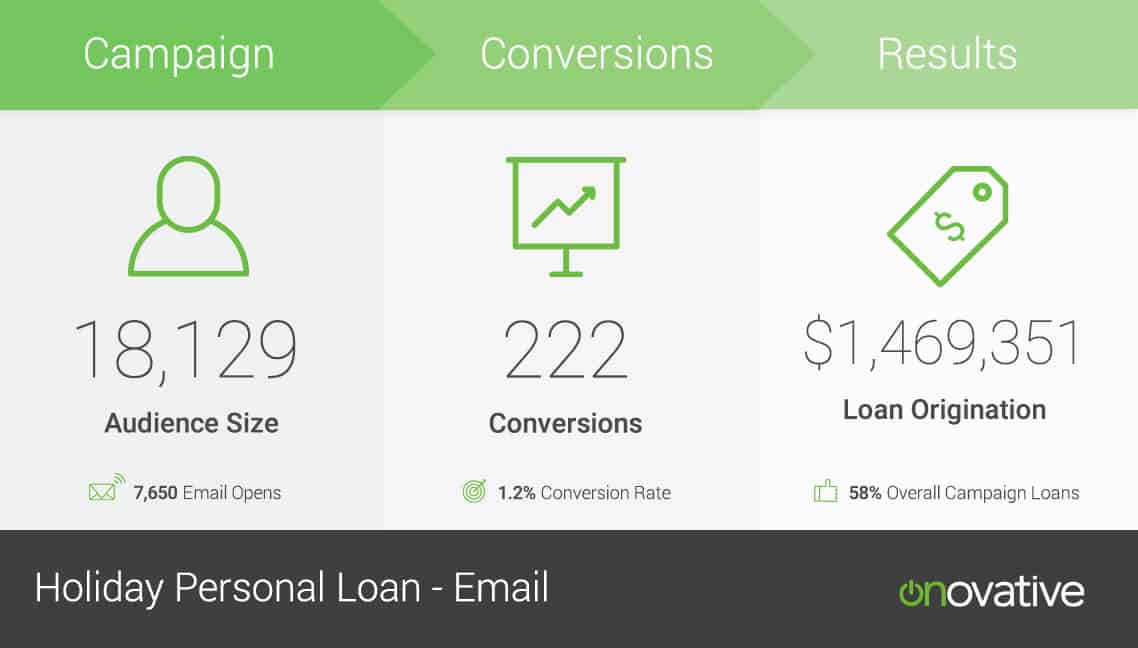 Want to see how Core iQ can boost your personal loan promotions at your financial institution?
Contact us today to get the conversation started!