A core conversion benefits both the financial institution and account holders. It increases security and allows the financial institution to offer more services. However, it will also impact some of those products and services, and you'll need to inform your account holders so they can be prepared. Knowing how to communicate with both retail accounts and business accounts is key to maintaining happy, loyal customers or members.
It's no secret that retail banking focuses on the general public while business banking focuses on corporate accounts. Both accounts also offer different products and services to cater to their specific account holders better.
During a core conversion, both retail banking and business banking are affected, and they need to be informed about what is going on and why. The first core conversion announcement is a perfect example of a communication that can go to both retail and business accounts. That's because, regardless of the type of account, they will be impacted by the conversion in some way. Also, every account holder must be informed of any changes to their account. This makes it a great time to explain what a core conversion is and how it will benefit all account holders.
When it comes to addressing the products and services impacted by the conversion, that's where separate communications may be necessary. It's important to distinguish between retail banking and business banking so that each type will receive what products and services will be affected and when. You can send separate letters for each product or service impacted. You may also consolidate related items (like online banking, online bill pay, etc.) into one letter. This will help regular account holders and business holders prepare and plan accordingly.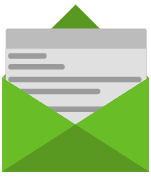 With something as big as a core conversion, it's better to over communicate with account holders than not provide enough information. That being said, you don't want to send something to them daily. You'll want to space them out accordingly. In addition to sending letters, it's also recommended that you take advantage of your social media sites as well as your website. Keeping them informed with helpful, useful information will help reduce confusion and help make the overall process smoother.
Posting reminders on social media about when certain services, like online banking, will be unavailable and available again will be especially helpful to retail account holders who follow or like your page. While sending letters and even conducting a few follow-up calls will help business accounts stay on top of what is going on. It's also a good practice to have a dedicated page with more information on your core conversion, why it's happening, and some common frequently asked questions for account holders to reference.
In the end, making sure your account holders, both retail and business, are well informed about the core conversion is key. A communication like the initial letter can go to all account holders since it's addressing the core conversion itself. Communications about the products and services impacted by the conversion should be separated out so retail accounts and business accounts are informed about services they care about. It's also a good practice to supplement your letters and other communications with posts on social media and have a dedicated core conversion page on your website. That way, account holders stay well informed and have access to more information if needed.
Access our core conversion resource library
Sample Schedule, Best Practices & Over 27 Downloadable Templates Click Here.