Creating a new auto loan campaign doesn't have to be as complicated as it may sound. It's important to remember that a good marketing campaign and content strategy begins with data driven research. By getting in the habit of using data to plan any new campaign, you can focus your efforts to being more strategic in your messaging. Let's look at one of my favorite marketing tools, Moz, to plan a high-converting auto loan campaign.
Keyword research tools, like Moz or AdWords, show you monthly search volumes associated with specific keywords or key phrases, giving you an idea of what people are searching for. With this insight, we have the ability to put the information consumers are looking for right in front of them. Let's use Moz's keyword explorer to begin a new auto loan campaign. If you don't have a Moz account, you can sign up for one here. Alternatively, you can use AdWords or your own favorite keyword research tool.
I like to start by plugging in a few basic words that I already know are relevant to the campaign. For a new auto loan campaign, let's look at "auto loan."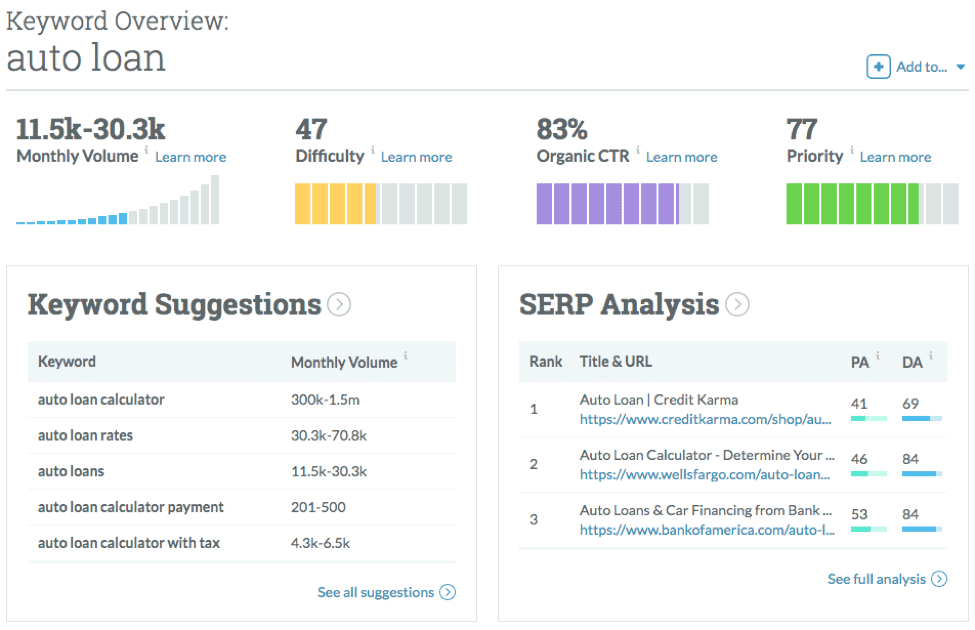 Moz's keyword explorer gives you the search volume, ranking difficulty, organic CTR, priority, keyword suggestions, and SERP analysis. For our purposes of building a content strategy for an auto loan campaign, we will only be looking at the monthly volume and keyword suggestions. What's interesting about using Moz's keyword explorer for content ideas, is not only can we see the monthly search volume for "auto loan" or "car loan", but we can also see related searches that consumers may be looking for in conjunction with "auto loan" or "car loan", giving us ideas for content to include within our campaign.
Before narrowing down our results, let's look at "car loan" to see if we can find any additional suggestions or insights.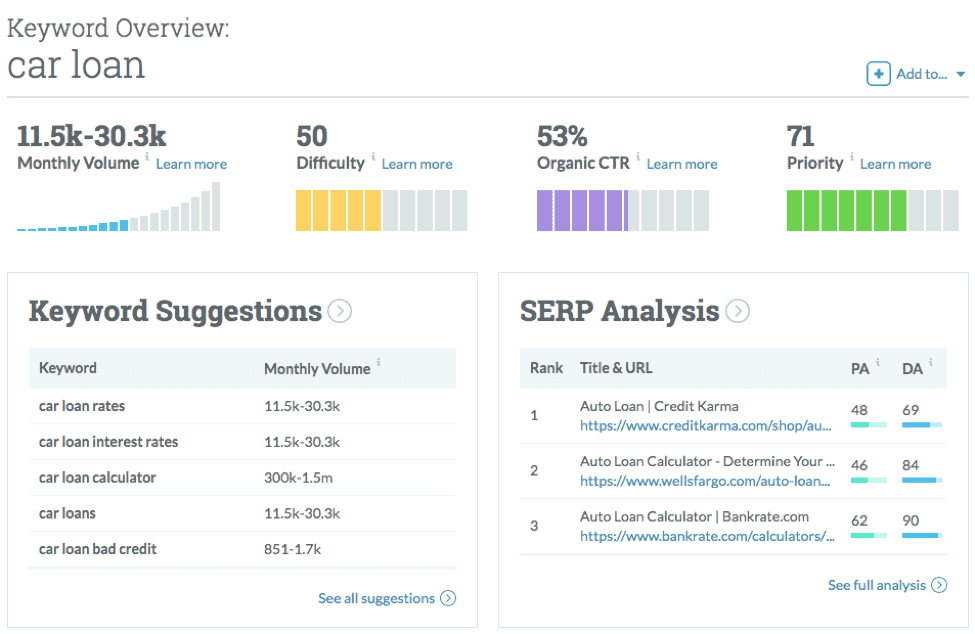 We can see here that the results and suggestions for "auto loan" and "car loan" are essentially the same. From our analysis, we can see that there is an average of 11.5-30.3k searches for both "auto loan" and "car loan" each month. Looking at the "keywords suggestions," we can see what consumers are most interested in when doing research on auto loans and preparing to purchase a new vehicle.
In this case, we learned that there is a high search volume for "car loan calculator," "auto loan calculator," "auto loan rates," and "car loan rates."
By utilizing Moz's keyword explorer to plan our new auto loan campaign, we now know to include information on the specific interest rates being offered (and potentially how they compare with other available rates), and a link to the loan payment calculator on your financial institution's website. From here, you can take what we've learned and create useful content for a new auto loan campaign that is sure to drive conversions.
Adopting this as the first step in planning any new campaign can help you instantly improve results. The next step in your auto loan campaign planning process should be to narrow down the audience you wish to target and analyze any other helpful trends before mapping out your content strategy.