Kids savings accounts, while not always large in deposit amounts, are valuable and profitable products for bank and credit unions to offer. Not only are they an opportunity to educate young consumers on the basic fundamentals of good financial habits, but they also set the groundwork for acquisition and retention of customers or members by way of general good-will and these young savers' families.
Understanding timing, content, and target audience for promoting kids savings accounts is key to optimizing your marketing campaigns. Take into account the following considerations when planning your kids' savings account promotions.
Timing Kids Savings Promotions
The first tool every marketer should have in their back pocket when planning the timing of a new product offer is Google Trends. Google Trends can help you know when people in your specific metro area are searching online for financial products. It's a very handy tool to use to look for patterns in product interest, see how the data correlates with your current promotion schedule, and see what insights you can learn or adjustments you can make to your current marketing strategy.
If you use Google Trends to look at the search term, "kids savings," in the United States over the last two years, you'll see four very prominent spikes in the graph. These will be the times of the highest points of interest – in other words, the two times of year the majority of people are searching for "kids savings" products.
You can see from the screenshot that these points of interest happen early to mid March and November each year: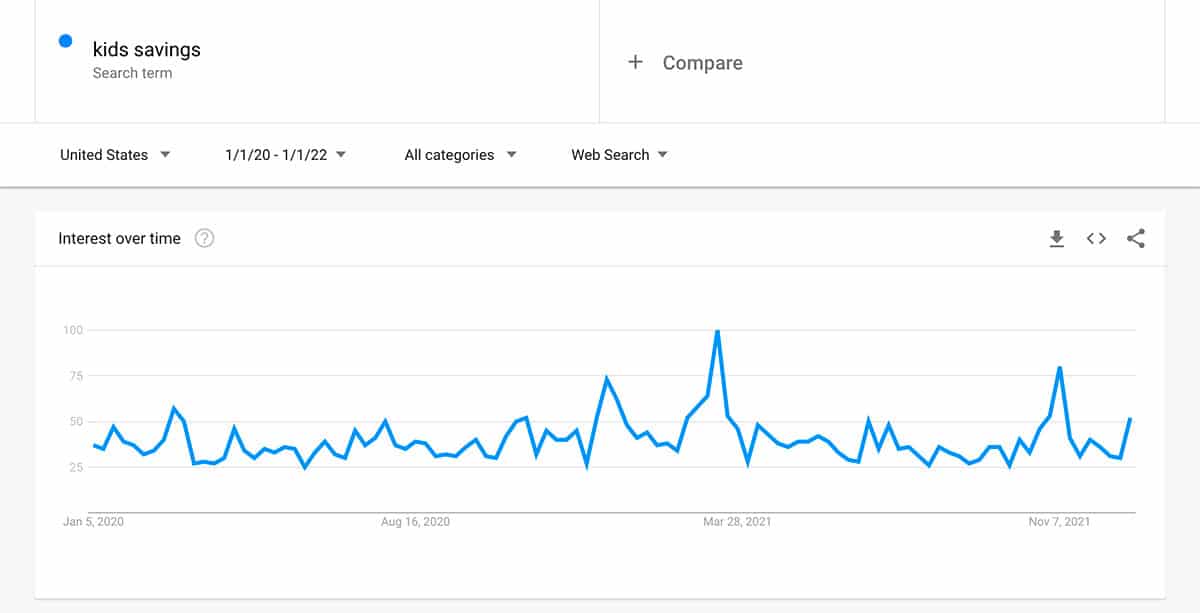 I always recommend trying a couple variations of the search phrase for comparison, so I've plugged in "kid savings" alongside "kids savings". "Kid savings" does not have nearly as high of a search volume, but you can see that it generally follows the same pattern of relative interest over the last 24 months.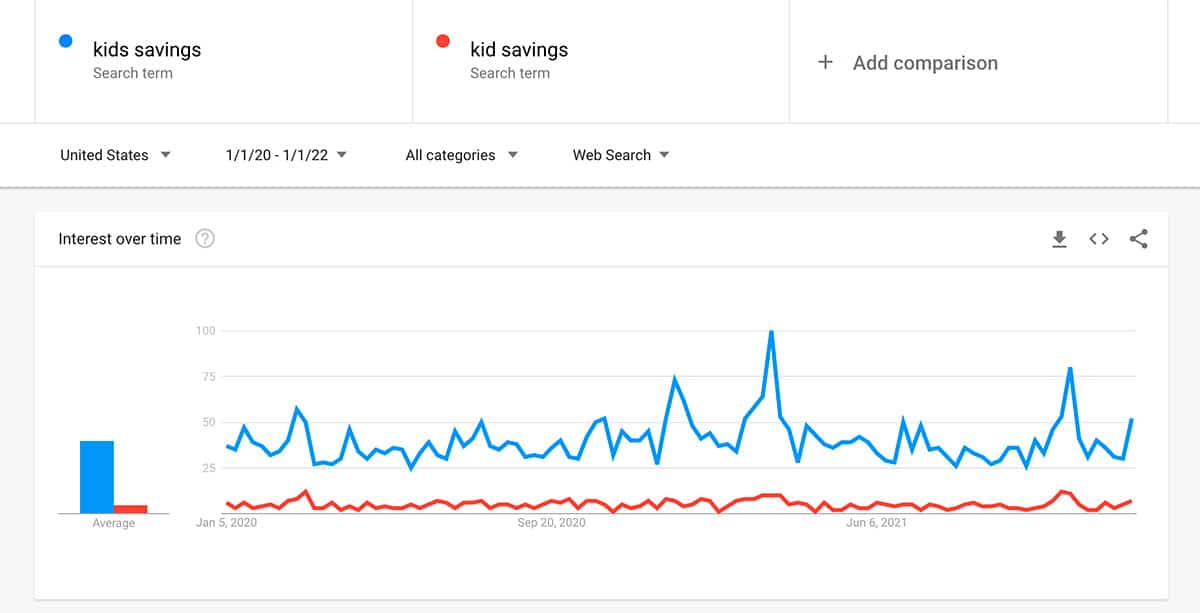 This search data suggests that the most profitable times of the year to promote kids savings accounts are March and November.
Additional Events to Consider
Since kid savings programs are a large part of financial literacy programs, you should be sure to consider any special events that occur throughout the calendar year to see if coordinating kids savings promotions with these events could make sense for your financial institution.
Annual Teach Children to Save Day
Teach Children to Save Day is a free national program, sponsored by the ABA foundation, that promotes financial education to children grades K-8. It's a great way for banks to get involved in their local communities, and promote saving and healthy financial habits to young children. There are lots of free resources available for anyone wishing to participate. This is a great addition to any financial literacy program and could be a great time to promote your kids' savings account products. Teach Children to Save Day typically takes place in April to coordinate with financial literacy month.
America Saves Week
America Saves Week, usually occurring the last week of February, promotes saving for all relationships for all kinds of occasions. This is another opportunity to promote saving to the whole family and offer plenty of guidance and resources to help young savers get started by understanding the importance of saving, and how to accomplish a savings goal. This is another great opportunity to promote your kids' savings account products.
Kids Savings Account Campaign Content
If you look at some of the top banks and how they promote their kids' savings accounts, you'll notice that the majority have some sort of kids savings program – packed with incentives, tools, and resources – that help make saving and learning financial responsibility fun for kids. They also clearly highlight all of the account features and benefits included in these accounts. Analyzing the way top banks promote kids savings accounts can give you some good ideas for promoting your own savings accounts and the types of features that most consumers look for.
PNC Bank
PNC offers a program called 'S' is for Savings that is accompanied by an interactive learning experience, tips from Sesame Street, and goal saving capabilities. Features like these are great for getting kids excited about saving and started down the path towards good financial habits. This savings account offers a lot in the way of financial education, which is a great way to build lasting relationships.


Alliant Credit Union
Alliant Credit Union's online kids savings account is open to children ages 12 and younger. The account features no monthly fees and joint ownership with parents, grandparents or guardians. The Alliant Kids Savings Account is a good teaching tool for younger kids for setting savings goals. Alliant also offers tips and videos for raising money-smart kids.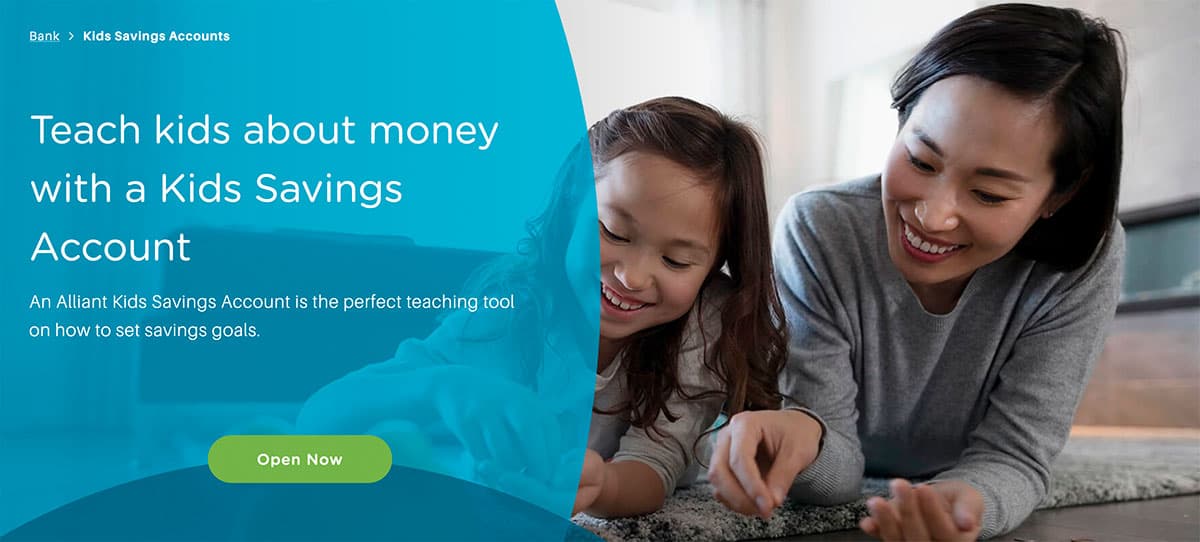 Capital One
Capital One offers a 360 Kids Savings Account with a high-yield online account designed for younger kids. There is no opening deposit or ongoing balance requirements. This account has no age threshold to open the account with parents having final approval over any funds transfers. Another nice perk is the account offers seamless mobile check deposit.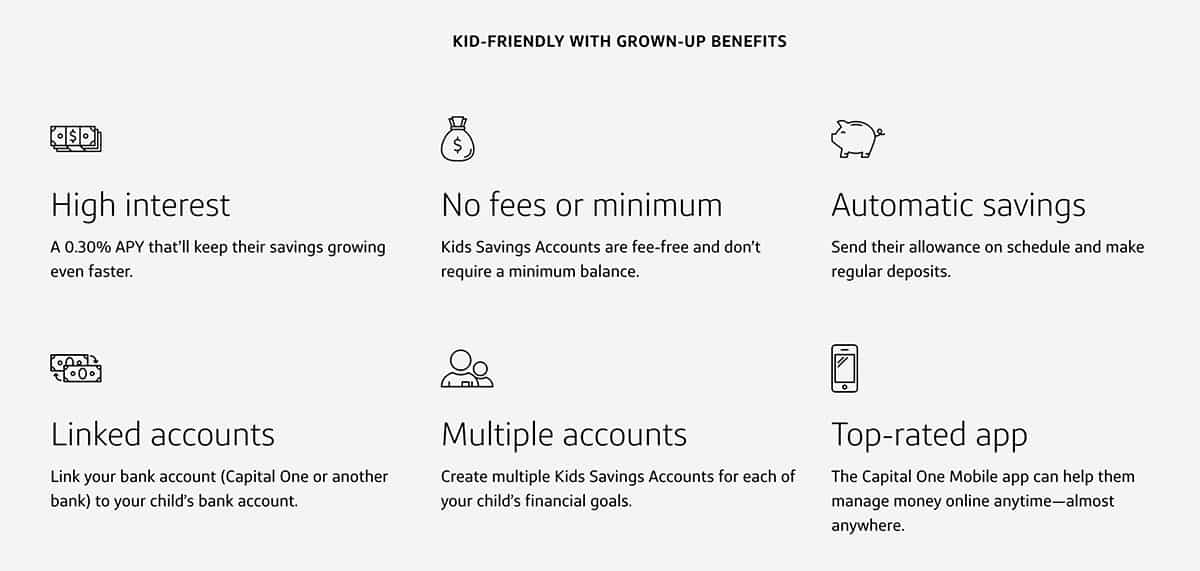 How to Promote Kids Savings Accounts
There are lots of different ways you can promote kids savings accounts. Here are some ideas for executing your kids savings promotions:
Consider offering an opening deposit match up to a certain amount. Depending on your budget, you could do this for any kids savings account that is opened or just offer it during your special promotion period. Some financial institutions have successfully offered an opening deposit match up to $50 on all new kids savings accounts opened during the month of the promotion. This is a great incentive for driving new kids savings accounts.
Offer a gift with every opened kids savings account. One way to get kids excited about saving and get their parents on board is to make it fun. Consider offering a small gift with new kids savings account such as a branded t-shirt, piggy bank, or personalized stuffed animal. These types of promo items are very inexpensive, ranging from $2 to $5. Another idea could be to gift a tote bag with coloring book pages that include savings tips and financial education information for kids.
Reward kids who receive an A or A/B report card with $5. Do this promotion twice a year, and encourage savings among your young savers. You could even consider entering every kid with an A or A/B report card into a drawing to win a single larger cash giveaway or item giveaway.
Try promoting a Summer Savings Challenge. This is a great way to generate buzz around your kids savings accounts as well as grow deposits among your current kids savings relationships. Challenge account holders to put a specific dollar amount into their savings account over the summer, and then enter them into a drawing to win a cash prize, % match up to a certain amount – any way you can to incentivize your young savers to build their savings accounts and begin to learn the importance of financial responsibility.
Get involved with the schools. This is a great way to market your financial institution to non-customers or members and grow your reputation in your community. Partner with a school to offer financial education materials or lessons. The FDIC offers lots of materials for financial literacy for kids and is a great resource to get your kids savings program up and running.
Defining Your Audience
Aim to target parents between the ages of 25 and 45, all without a kids savings account as a primary or secondary relationship and no balance filter. If you're unsure of whether your segment consists of parents or not, one workaround would be to broaden your messaging. For example, craft your message to say something like, "Help develop good savings habits for the kids in your life". This will ensure that you aren't spamming your relationships with irrelevant product offers and could possibly spread the word through referrals from your current relationships without children.
For more ideas on how to build a kids savings account campaign, or for more information on financial education for kids, email us at info@onovative.com.