Since almost all banks and credit unions offer student checking accounts, it's important to make sure your offer and the timing of your offer can help your student checking account campaigns really stand out. So, how can you build a solid student checking account promotion?
Using research data and promotional examples from some of the big banks, we can quickly and easily create a competitive student checking account campaign. Let's walk through how we can plan student checking account promotions.
Define Your Audience
When it comes to student checking accounts, defining the audience is simple. Some banks and credit unions offer both high school and college student checking accounts, so depending on which you offer, you'll need to slightly adjust your target audience age range. Most high school student checking accounts are offered to students between the ages of 13 and 17 and college student checking accounts are offered to students between the ages of 17 and 24.
The Best Time to Send Your Student Checking Promotions
The most important aspect of planning your student checking account campaigns is determining the best timing for your promotions. As is the case with any type of marketing, it's important to get the right offer in front of the right people at the right time. So, how do we determine the best time to promote student checking accounts? The answer here may seem obvious, and that most students will look for a student checking account during breaks between when school is in session.
We can quickly verify this by using our favorite free tool, Google Trends.
Google Trends shows the relative interest of a search term over a certain period of time. This will help you determine when people are more likely to be searching for a student checking account so you can plan the timing of your promotions, accordingly.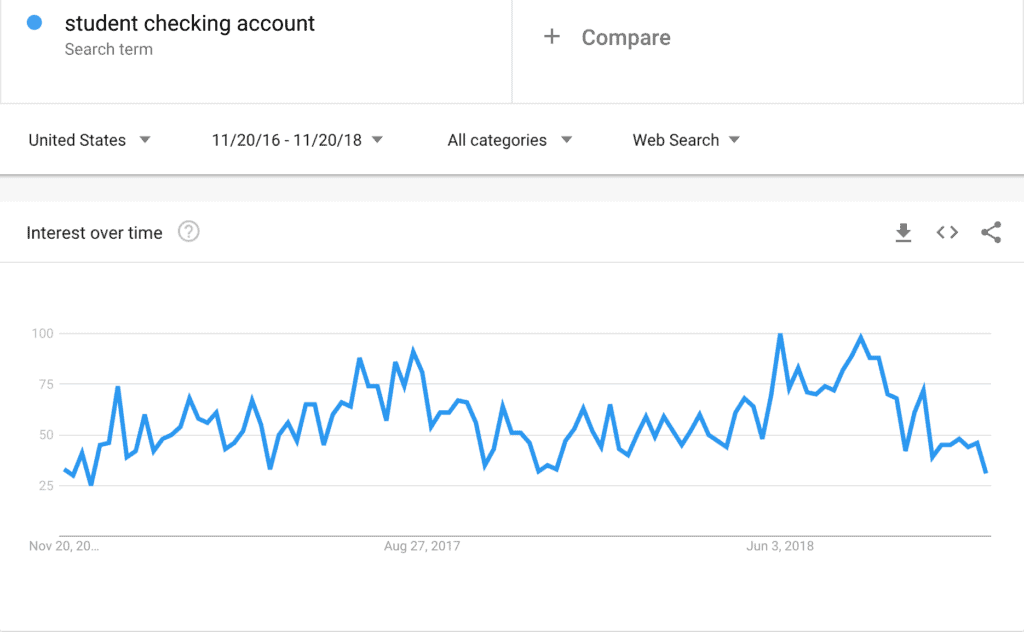 The screenshot above shows the relative interest over the span of 24 months for the search phrase "student checking account". As you can see from the screen shot, there are obvious "peaks" during the year when the interest in student checking accounts surges. Looking closely, you can see that the highest points on the graph span between: – June 3 – June 9 – July 9 – July 15 – August 5 – September 2
We can see the peaks begin to rise during late May and start to taper off in early September, corresponding with students' summer break. Based off of this Google Trends data, you should have your campaign pieces ready and audience defined so that you can begin sending out your student checking account promotions starting in late May and continue through the beginning of September. Doing so will allow you to get your competitive offer in front of your target audience when they are most interested in this specific product.
What Account Benefits Should You Offer?
The next piece in planning your student checking account campaign is defining your offer. Most student checking accounts offer similar features and benefits;
$0 monthly maintenance fee
No minimum balance
Online and mobile banking access
Remote deposits
Waived ATM fees for students between the ages of 17 to 24
Highlighting these benefits is important and should always be included in your offer.
How Are the Top Banks Promoting Student Checking Accounts?
If you are going to compete with the big banks, you need to know what they're doing to promote stduent checking accounts. Offering some kind of sign-up bonus or gift card can help to attract students to your financial institution. Here are some examples of student checking account offers from some of the big banks.
Chase
Probably the most attractive offer, Chase strategy is to offer $100 cashback for opening a Chase Student Checking Account and meeting a few qualifying activities; depositing a minimum of $25 at account open, enrolling in eStatements, and completing 10 qualifying debit card transactions within 60 days of account open.
PNC
PNC Bank offers a value added service geared towards the audience they would like to attract. They offer their Virtual Wallet feature with all student checking accounts as their highlighted benefit. This allows account holders to monitor spending and budget out their finances with their easy-to-use tool.

BB&T
BB&T does not offer anything on top of their standard features. Their promotions simply lay out the details around who is eligible for student checking, all of the benefits and features, and pricing information. This is another strategy you can use in your own student checking campaigns.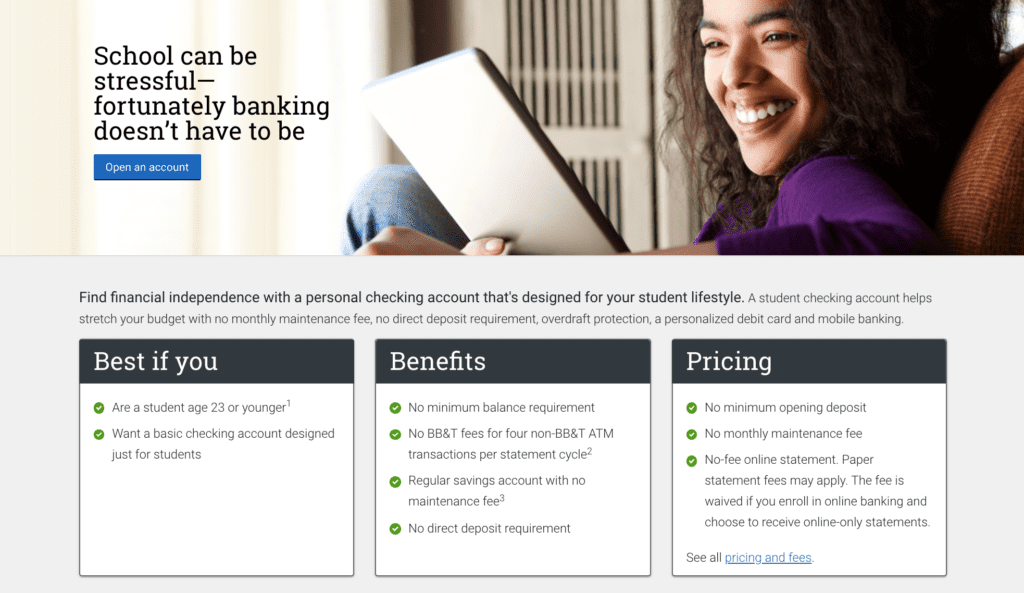 Now you can take these actionable insights we've compiled from research and examples of successful student checking promotions and create a highly-competitive student checking account campaign to promote to your customers, members, or prospects.