The core conversion date has been set. The impacted services and temporary business hours are written down. Now, it's time to inform your account holders about the big change.
There are two main categories of communication during a core conversion. These are regular communications and critical communications. The difference between the two isn't the message, but the type of the communication you're sending (e.g. print mail vs email) and its timing.
Sending a letter will ensure that all account holders receive the communication, but letters take days to be delivered. This means that you wouldn't want to send a letter a few days before the conversion. This would risk a large number of people receiving the communication after the conversion happens. On the other hand, it's also not a good practice to rely on emails alone during the critical timing just before the conversion, because you may not have an email address for everyone.
To better illustrate regular and critical communications, let's use our "Core Conversion Communication Schedule" below as a visual guide. Regular communications are represented by green circles and are focused on informing account holders about the conversion. Critical communications are red circles and are related to account holder specific product changes (where they will be directly affected), just before the conversion.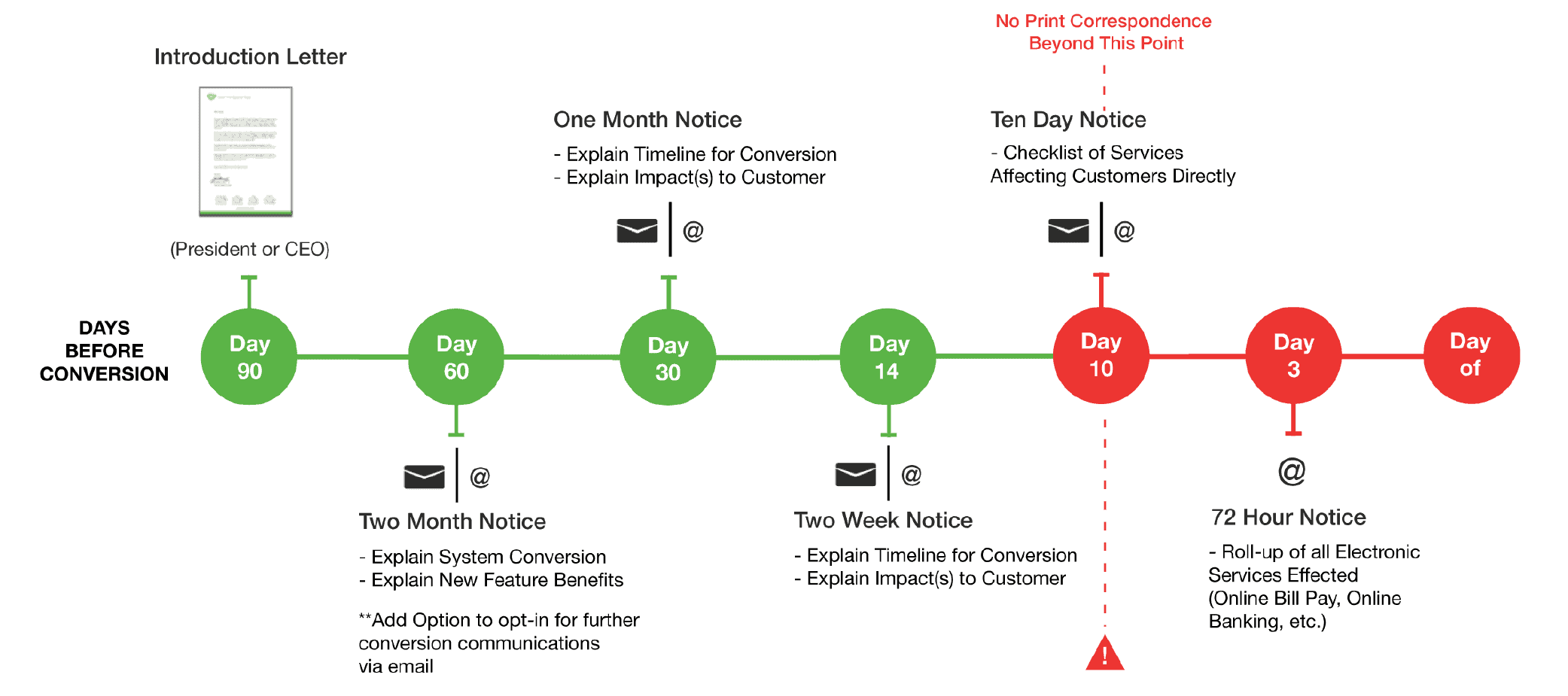 We recommend sending your first communication no later than 90 days before the core conversion. This can be followed up with "Day 60", "Day 30", and "Day 14" reminder communications. These three communications should be a letter or a letter/email combo to make sure account holders receive these important touchpoints.
When we hit ten days out from the conversion day, we start stepping into the critical zone. The reason this timeframe is so important is because the core conversion is so close. For this reason, we don't recommend sending print communications within ten days of a conversion event. The communication may not make it in time if sent in this critical zone.
When you're within ten days of a conversion, other communication outlets like email, social media posts, and notices on your website can help keep your account holders up-to-date. You can even talk about these options in your letters. That way, account holders will know to look toward these other channels for information as conversion day gets closer.
(Note: Please make sure to send anything that needs to go to all account holders in print. That will ensure that everyone gets the notice, understands how it will affect them, and can plan accordingly.)
Access our core conversion resource library
Sample Schedule, Best Practices & Over 27 Downloadable Templates Click Here