According to our most recent survey of bank and credit union customers, those respondents who have remained with their bank or credit union longer than 5 years cited Convenient Locations (43%) over Electronic Baking Options (29%) as the #1 reason for retention. Friendly Service ranked second in the survey (34%), with Low Fees (28%) and Attractive Rates (12%) rounding out the bottom two.

Although Convenient Locations ranked relatively highly amongst all age groups, those 65 years of age or older specified Convenient Locations in higher numbers than other respondent age groups.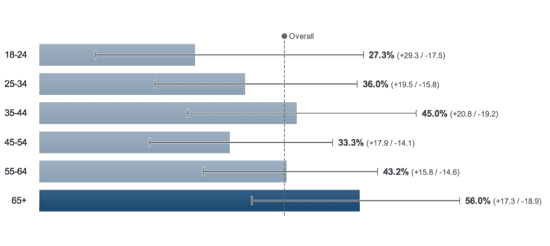 In attempting to better understand what factors contribute to long-term bank customer retention, the relatively low priority given to online banking options proved particularly intriguing. Amongst all respondent age groups, convenience of location outranked online banking options as a determining factor in their choice to remain with their bank or credit union.
Some industry pundits advocate the closure of less profitable branch locations in favor of a greater emphasis on electronic banking services. Our mobile banking app survey conducted this past June determined that only 15% of bank and credit union customers use their mobile device for online banking. Although this number is expected to climb, both survey results suggest that loyal customers still identify their bank relationship in the "physical" as opposed to "virtual" sense, and that branch closure decisions should be made on the basis of profitability as opposed to anticipated changes in consumer behavior alone.