Promotional emails are an integral part of any bank or credit union's marketing strategy. A good product offer can be a simple, yet powerful way to increase awareness of your products and services, grow loans and deposits, and improve loyalty for your financial institution. But how do you build an effective product offer email that will attract attention and help you reach these goals?
Let's look at the anatomy of a product offer email so that you can begin to create promotional emails that convert.
Crafty Subject Line
The subject line is the first thing your customers or members see when they receive an email from your financial institution. Often times, this is the determining factor in whether or not they think it's valuable to open your email or delete it. It's their first impression of you, so spend some extra time crafting your subject lines for your promotional emails and product offers.
Subject lines need to be catchy – something that grabs the attention of your customers or members and entices them to continue reading. They are important for driving email opens, and the first step in driving conversions.
Some of the best email subject lines use the following techniques:
Be exclusive
Be clever
Be active
Give a sense of urgency
Use emojis
Showcase your offer
Here are some examples of how those styles can translate into great subject lines for bank and credit unions:
"Activate your new Rewards Visa today"
"Ready for 🏠 ownership? We can help!"
"Your heart will race for our auto loans"
"Last chance to take advantage of these great rates"
"Sign up for eStatements and get $10"
Lastly, don't forget to keep it short and sweet. Remember, email clients will only show so much in the email preview, so you'll want to try and keep your subject lines short so they don't get cut off. Best practices suggest keeping your subject lines shorter than 50 characters to ensure your recipients can read the entire thing.
Use Graphics
Moving on to the body of your product offer email, one of the next things that will help grab the attention of your customers or members is using a nice graphic. Graphics can help your product offer emails be more visually appealing, helping to catch the eye of your relationships and help your product offer emails to convert.
Be sure to keep your images sharp with high-resolution and don't forget to include alternative text for any recipient using a screen reader or for any instance in which the image doesn't load properly within an email client.
Another best practice for using graphics in your promotional emails is to be sure the images complement the offer. Don't just use an image to use an image, or else it could detract from the purpose of your email, keeping your customers or members from biting at your offer.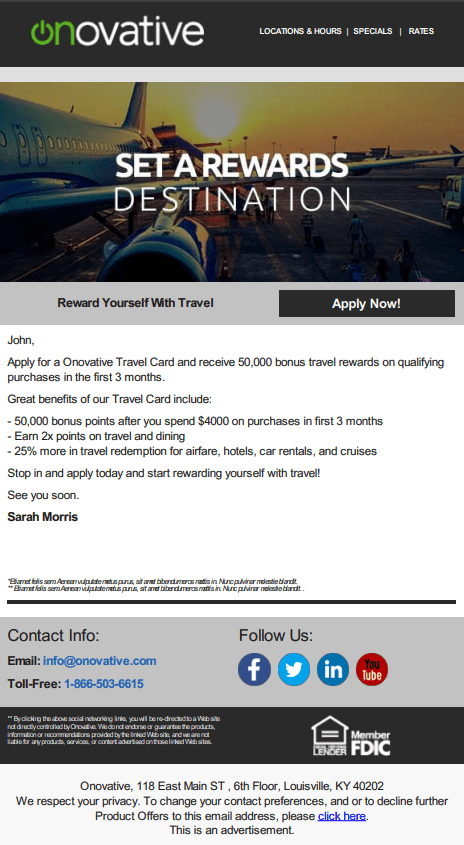 Clear CTA
Creating a clear, concise, call to action is the most important component of your product offer emails. Without it, you leave your customers or members without a next step, and you without conversions.
It's a distinctive, impossible-to-miss clickable button with text that urges the recipient to take immediate action or accept an offer.
Before you decide on what your call to action should be, make sure you have a clear understanding of the goal you're looking to accomplish.
Are you wanting your customer or member to apply for a specific product?
Are you wanting them to consider upgrading an existing product or service?
Are you wanting to push them towards more information to learn about a product or service?
Whatever your goal is, be sure to choose specific and strong words that directly link to the desired action you wish your customers or members to take.
Some great examples of high-converting calls-to-action for bank or credit union product offer emails include:
Apply Now
Activate Now
Open Your Account
I Want to Upgrade Now
Get on the Road
Enroll Today
I Want to Switch Now
Start Saving
Secure Rates
Personalize It
Simple personalized touches like including the recipient's name in the body of your email is a nice way to make your customers or members feel valued and unique, something all consumers look for in financial partnerships.
And don't forget, personalization can work both ways. Sending product offer communications from a specific loan or bank officer adds a nice personalized and welcoming touch that will help you get the conversions you're after.
Personalization can also be achieved through means of segmentation. For example, you wouldn't send a home mortgage loan offer to a customer or member who already has a home mortgage loan with your financial institution. Segmenting your recipients based on current products and services is an essential component of your product offer email marketing strategy. Additionally, segmenting your recipients based on age, life stage, behavior, or propensity to buy can help you deliver personalized and targeted product offers to your customers or members. Consider creating different versions of the same product offer email based on which age segmentation your customers or members belong to. This will add another level of personalization to your promotional emails.
Now you have all of the elements you need to craft the perfect product offer email that will drive conversions.
For more bank marketing tips and best practices, email me today at info@onovative.com or sign up for a quick demo to see how Core iQ's all-in-one marketing automation platform can help you design and execute your promotional campaign emails.